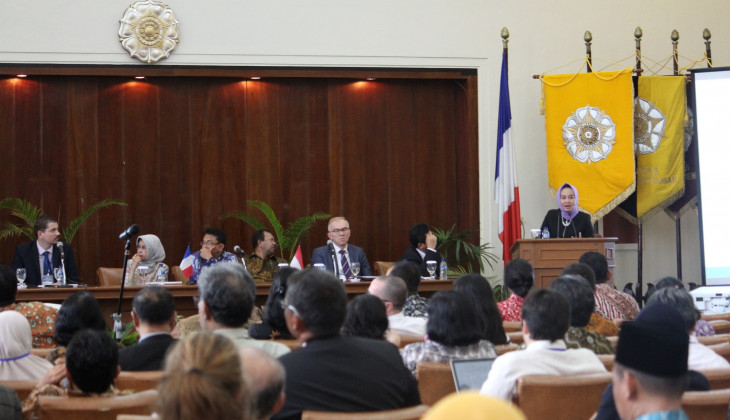 The 9th Joint Working Group Indonesia-France in Higher Education and Research at UGM campus was officially closed by UGM Rector, Prof. Ir. Dwikorita Karnawati, M.Sc., Ph.D., on Thursday (4/5). The closing of Joint Working Group was attended by French Ambassador to Indonesia, Jean Charles Berthonnet, and several university's leaders.
After closing the event, UGM Rector, Dwikorita Karnawati, hopes the Joint Working Group between Indonesia and France in higher education can be maintained, particularly because this activity involves many young people.
"We know this activity involves young people, and we hope they can be the leaders in the future to realize the world peace," said Dwikorita.
In the next Joint Working Group (2018) in France, UGM Rector hopes they can invite industries. By involving industries in this activity, there will be more sectors which can be included in the cooperations.
"Thanks to the Ambassador and the committee who have given their attention and support to this activity, which is expected to develop many institutions in these two nations," she added.
Before closing the activity, the committee held an event namely MT 180 (Mathese En 180 Secondes). It is an event for Doctors and Doctoral students to present their dissertation in the French language. The presentation was delivered in an easy-to-understand language.
The MT 180 was attended by 9 Doctors and Doctoral students. This year, the first winner of MT 180 will obtain a reward of Summer School in France and financial support to attend an international competition. The second winner will obtain a reward for attending the next Joint Working Group which will be held in France in 2018 while the third winner can choose the reward whether a cooking course in France or a Dinner for two people in a French Restaurant wherever they want.