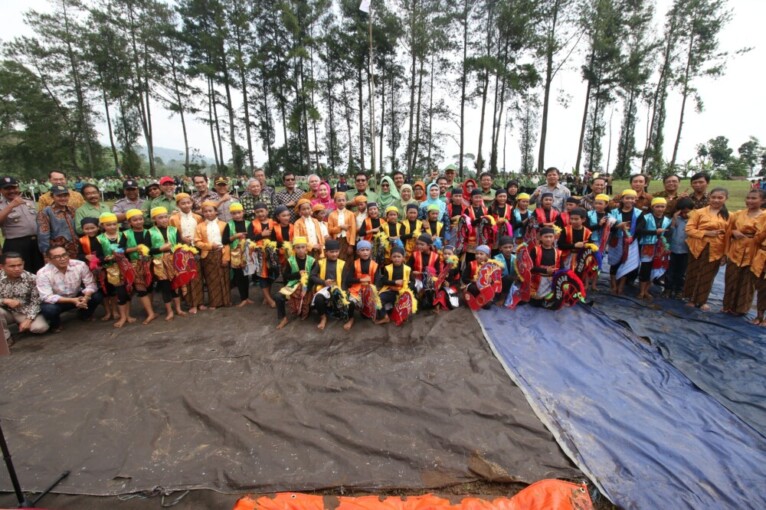 Revolution on Production and Product of PT. Pagilaran was the main theme of the 53rd Anniversary of PT. Pagilaran tea company which reflected an essential message regarding the desire of PT. Pagilaran to revolutionize its production by making various product innovations. Moreover, by performing good management is expected to synergize the external factor (market) into a measurable planning system.
Dr. Rahmat Gunadi, the Director of PT. Pagilaran said the revolution on production and product has to be based on the enhancement of human resources' competence and integrity in order to encourage PT. Pagilaran to be a strong business entity and ready to face the dynamic business climate change.
Rahmat Gunadi said PT. Pagilaran is already known as a good quality tea company at the national and international levels. Moreover, it is also noted as a good quality tea supplier and exporter. Its income even reached 8,000 ton per year or equals to 152 billion rupiahs.
Therefore, PT. Pagilaran keeps enhancing its production and marketing, encouraging its tea garden units, cooperating with partners, and performing product diversification.
"We keep encouraging both the product volume and quality as well as performing diversification by producing premium tea. From the same tea leaf and tea garden, we can perform a different processing scenario to make a different product. Therefore, the workers' knowledge and competence are essential to make product diversification," said Rahmat Gunadi.
Rahmat Gunadi said PT. Pagilaran keeps encouraging itself because the work in plantation sector never finished. In addition, the recent trading situation is not in a decent condition, particularly in the plantation industry.
UGM Rector, Prof. Ir. Dwikorita Karnawati, M.Sc., Ph.D., gave her appreciation and acknowledgment to the workers who have participated in improving PT. Pagilaran. Through tea industry, PT. Pagilaran has been contributing in enhancing the nation's economy.
"We experienced a trial in 2005 and gratefully we could stand up again within 3 years and became the top-100-industry. We are in the 92nd rank of the industries which give the biggest foreign exchange for Indonesia. Therefore, PT. Pagilaran is the foreign exchange hero for Indonesia," said Dwikorita.
UGM Rector says since October 2016, PT. Pagilaran has been a part of Universitas Gadjah Mada. Therefore, UGM welcomes the young generation of PT. Pagilaran who wants to take a bachelor study in UGM.
Dr. Muhamad Askari, S.Si., M.Si., event chairman, said there will be many activities in the 53rd anniversary of PT. Pagilaran including a competition, Tea Production Revolution Festival, which is a competition on the productivity and production quality of the tea shoots plasma.
"We also hold collective work performance productivity, national tea competition, tea walk, reception, cultural expose, and thanksgiving night," said Muhamad Askari.