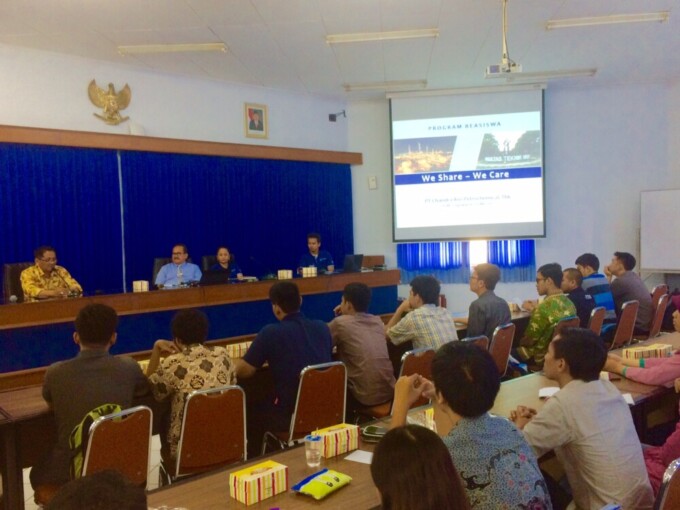 To get professional and qualified human resource, PT Chandra Asri Petrochemical, a petrochemical producer, has offered scholarships with a bond agreement for students of Faculty of Engineering UGM. The recipients will then have to work at the company for two years.
Saur Silalahi, HR manager of Chandra Asri Petrochemical, said the scholarship was one of the strategies of the company to recruit independent and professional human resource. "The world market has become more selective and competitive to get good HR candidates," he said during socialisation of the scholarship at the Faculty of Engineering UGM on Monday (8/5).
He explained Chandra Asri Petrochemical currently employs as many as 501 staff, with around 80 people graduating from UGM. The company has targetted to employ 1,600 staff through selective recruitment. This scholarship programme is expected to accelerate the time for scholarship recipients to get to work.
Recipients of the scholarship are students of the final year from Chemical Engineering and Mechanical Engineering who have 90 credits in course and has GPA above 3,00 as well as the willingness to work there for two years after graduating.
Secretary of Student Affairs Directorate of UGM, Agus Hartono, such scholarship would benefit the students greatly to get the job quicker. Agus hoped Chandra Asri would also offer scholarships in other forms that can give opportunities for students of other disciplines to get the scholarships, too. "Many students here are outstandng but in need of a scholarship. Hopefully, the cooperation between Chandra Asri and UGM would continue," he said.