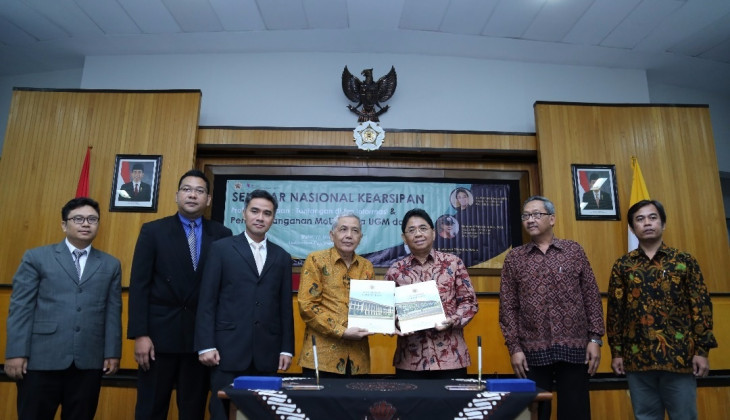 Universitas Gadjah Mada (UGM) and National Archives (ANRI) established cooperation in administration and development of archiving study programme of diploma 4 level (four years). This came in an MoU and cooperation agreement that was conducted on Wednesday (10/5) at UGM.
The signing of the cooperation was done by UGM Vice-Rector for Research and Community Service, Prof. Dr. Suratman, and Head of ANRI, Dr. Mustari Irawan, M.PA., and between Dean of UGM Vocational School, Wikan Sakarinto, S.T., M.Sc., Ph.D., and ANRI Principal Secretary, Drs. Sumrahyadi, MMIS.
Wikan Sakarinto said currently the world has come to the digital era so that competence in creativity, communication, and IT literation is much needed. He said information and data would be the key to future competition.
"Indonesia needs many archivists, but this goal has not happened yet due to the limited number of such competent archivists. The opening of the Archiving diploma programme is expected to be able to meet the need of qualified archivists," he said.
Musatri Irawan said his office had the strong commitment to supporting the development of science and human resource, particularly in archiving. He hoped this cooperation would advance Indonesian archiving world.
"ANRI is very open for cooperation. We are ready to support in terms of research or apprenticeship so that the graduates from UGM Archiving programme would be ready to work anywhere," he said.
Vice-Rector Prof. Suratman welcomed the plan to open the Archiving study programme because currently Indonesia has not many archivists.
"Archiving is the soul of a civilisation. Unfortunately, the progress of archiving study programme is still slow, even there is no archiving professors in the country," he said.
Hence, UGM supports the development plan of Archiving study programme as a form of UGM initiative in building the construction of knowledge that can enhance nation's competitiveness.