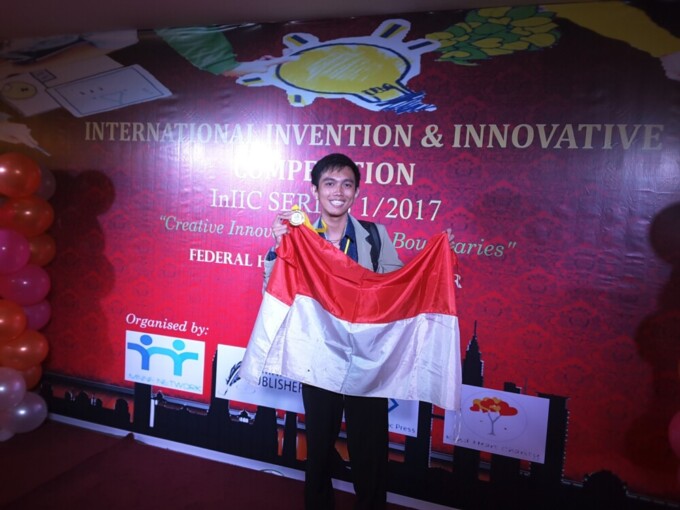 Two UGM students, Yohanes Susanto and Natali Gupita Abhirama (Chemical Engineering 2015), succeeded in winning the Gold Award in the International Invention and Innovative Competition (InIIC) Series I/2017 which was held by the MNNF Network on 6 May 2017, in Kuala Lumpur, Malaysia. This annual event entitled Creative Innovation Without Boundaries exhibited 327 innovations from professionals, college students, and scholars.
At the InIIC, UGM students presented an innovative fish cooling box, namely SMACOX or Smart Cooling Box as A Better Technology for Preserving Marine Products. It succeeded in winning against the other 60 participants in the college students category and earned a gold medal.
Under the supervision of Wiratni Budhijanto, S.T., M.T., Ph.D., and Prihati Sih Nugraheni, S.Pi., M.P., Yohanes and Natali developed a fish cooling box by the modification of anti-bacterial activity from nanochitosan which was produced from crab shell. The cooling box had an ergonomic design which made it easy to use by traditional fishermen.
"The judges were attracted by our innovation because the modification of antibacterial activities from nanochitosan has never been used before. Moreover, our cooling box did not need additional energy due to its modification and convenience," said Yohanes Susanto at UGM campus on Monday (15/5).
Yohanes Susanto said the cooling box innovation emerged due to issues on the products of fishermen which could no longer be consumed due to bacterial activity during transport from the sea. Moreover, many preservatives like formalin are still used which are harmful to the health.
Furthermore, Natali said SMACOX can be beneficial for the traditional fishermen because it can help with the preservation budget through saving in terms of ice cubes and the longer storage period. Laboratory tests also showed that SMACOX is effective in slowing the rate of bacterial activity in fish decay.
Despite their achievement, Natali said her team still had to keep developing this innovative cooling box by direct testing as well as more testing of varied variables to ensure the anti-bacterial function is effective in various conditions.