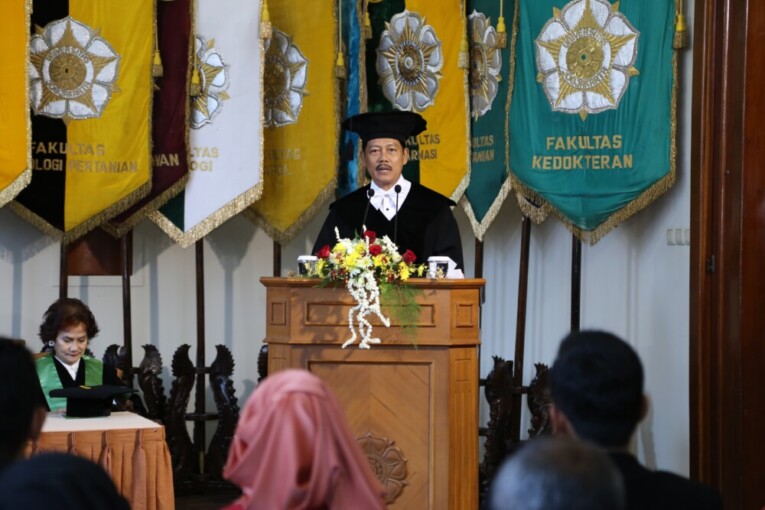 Cardiovascular disease is stil fatal. Data from the WHO recorded in 2005 there 17.5 million people around the world dying every year due to this, it even accounts for a third of global mortality rate.
"The prevalence in Indonesia for coronary disease in 2013 reached 2,650,000 (1.5%)," said Prof. Dr. Dr. Budi Yuli Setianto, Sp.PD-KKV. Sp.JP(K), when delivering his inaugural professorship remarks at UGM Senate Hall on Wednesday (17/5).
Budi Yuli said people of all age – including children – have the risk of cardiovascular diseases. As high as 80 percent of the case happen in low and middle income countries.
"In 2020 it is projected that cardiovascular case will increase to over 23.4 million people," said the cardiologist of UGM.
Heart disease and stroke are predicted to be the main cause of deaths and disabilities in the world. Budi Yuli mentioned China as the country with the highest mortality rate due to cardiovascular disease. Mortality rate of coronary disease in Indonesia ranges between 100,000-500,000 annually.
In his opinion, intervention cardiology services in the enactment of Social Security (JKN) still meet barriers, including due to the low awareness of patient and doctor, unavailability of registry and network of MA-EST nationally and cath-lab registry and national IKP network, limited facilities, availability of drug and diagnostic tools, and unequal distribution of specialists.
There are also challenges coming from general practitioners who lack of self-confidence when they have to treat patient with acute coronary syndrom as well as unavailability of integrated referrals and EMS services. Meanwhile, national health funding is lower than the actual costs.
To resolve these issues, Budi Yuli highlighted the need for improving the target coverage of Health Insurance (BPJS Kesehatan) for all in 2020, also increase of hospitals for training in intervention cardiology and cath-lab facilities to as many as 220-250 hospitals. In addition, it is important to increase the target of intervention cardiology by around 30-35 people per year. Another thing is to develop IMA-EST network with SKA registry as well as national IKP registry.
"It is important to also develop affordable quality stent such as the INA-Stent that is a research product from UGM," he concluded.