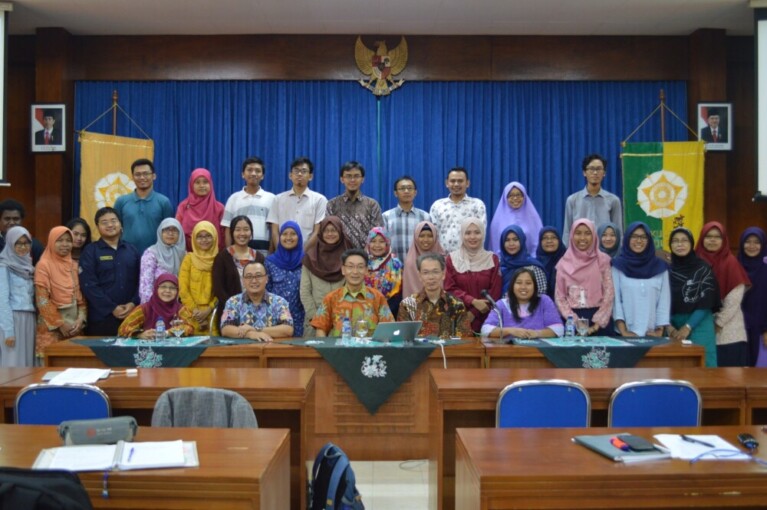 Two lecturers from Nagoya University (NU), Japan, Prof. Shogo Matsumoto and Dr. Yasushi Yoshioka, visited Faculty of Biology UGM from 8-14 May 2017. They aim to enhance cooperation in the development and biotechnology of plant. They also give a public lecture on reproduction system of horticulture and genetical engineering with the Genome editing using the method of CRISPR/Cas 9.
On Friday (12/5) at Faculty of Biology UGM, Vice- Dean for Research, Dr. Eko Agus Suyono, M.App.Sc., said, "Faculty of Biology has long started cooperation with NU since Dr. Endang Semiarti continued her studies in Plant Molecular Genetics at Nagoya in 1995."
Eko Agus Suyono said under an MoU, cooperation between UGM and NU was signed by Rector of UGM and President of NU on 20 June 1995. Many UGM students from S1, S2 and S3 programme had since studied at Nagoya University and vice versa. Later, UGM lecturers had the opportunity to study in Japan and their counterparts studying here.
According to Eko Agus, the molecular biology experts from Nagoya University would collaborate with a UGM team to find new and beneficial traits of orchids as ornamental and popular plant in Indonesia, using molecular biology approach.
Lecturer Dr. Endang Semiarti added the public lecture talked about basic mechanism of plant development in terms of molecular biology, genetics, and horticulture.
Dr. Yoshioka described the adoption of CRISPR/Cas 9 method [Clustered regularly interspaced short palindromic repeats (CRISPRs) and CRISPR-associated (Cas) proteins] as a new technique that is effective to edit plant genome so that they attain mutants with required new traits.
This will benefit farmers who meet challenges due to the long vegetative phase and issue on mass seed production of the same type. Hopefully, the molecular biology application can produce plants with beneficial traits.
"In addition to research collaboration of orchid development, this cooperation is expected to extend to the development of other important horticultures," said Eko.