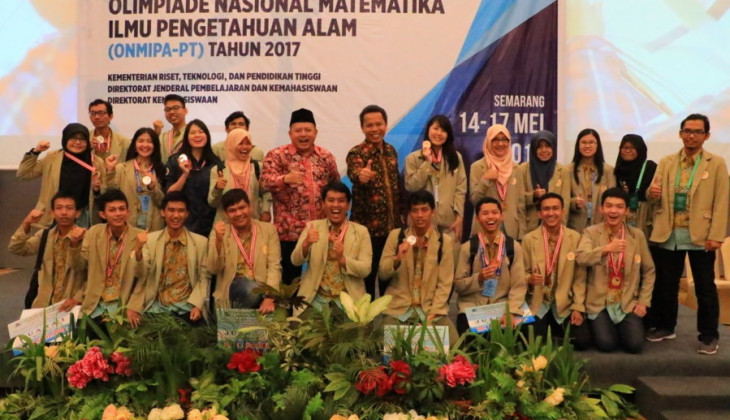 UGM delegates succeeded to earn 17 medals from National Olympiad in Natural Sciences and Mathematics at University Level (ON MIPA PT) 2017 which was held from May 14 until 17, 2017, in Semarang. In this Olympiad, UGM earned 2 gold, 5 silver, and 10 bronze medals. Moreover, UGM also earned 6 medals for Honourable Mention.
The gold medals were achieved by Ricky The Ising in Mathematics and Hanna Fauzyyah in Biology while the silver medals were achieved by Gary Ariel and Muhammad Ikhsan in Mathematics as well as Maria Patricia, Anang Rizky Muharom, and Pratiwi Indah in Biology subject.
Meanwhile, the bronze medals were achieved by Resita Sri Wahyuni, Mufti Al Umam, Mu'ammar Musa, and Alzimna Badril Umam in Mathematics, Kurniawan in Physics, Ali Bahri Lubis, Yudha Ramanda, Regina Rachel Gunawan in Chemistry, as well as Roihan Muhammad Iqbal and Amelia Nur Khasanah in Biology.
The Honourable Mention awards were achieved by Rizky Ananda, Arifin Achmad, Juhri Hendrawan in Physics and Faizal Aziz, Thomas Edison, and Hendra in Chemistry.
Head of Students Creativity Unit of Directorate of Student Affairs UGM, Ahmad Agus Setiawan, S.T., M.Sc., Ph.D., said he was very proud of the achievements acquired by UGM delegates. According to Ahmad, the achievements in ON MIPA PT 2017 showed a significant increase from last year which earned 17 medals.
"These achievements are obtained by the spirit of the students who had practiced since the beginning of this year which started by preselection training. Then, it continued by an internal selection in UGM to go to the regional level and the students who passed the regional selection were given an intensive training and attended boot camp.
"We give our acknowledgment towards all of the supervising lecturers and the students who had fought hard until this point," said Ahmad Agus.
Furthermore, Agus said the winners in mathematics subject will be reselected in national level to represent Indonesia in the International Mathematic Competition (IMC) 2017 in Bulgaria. Therefore, his office prepares strategy and training for the UGM contingent to pass the national selection and go through to the international competition.
Director of Student Affairs, Dr. Senawi, was also proud of the achievements of UGM delegates in ON MIPA PT 2017, hoping the team will keep improving.
"We are grateful that UGM always earns many medals in every ON MIPA competitions. Our commitment is always supporting the students to compete in national level by giving facilitation from preparation phase until the competition.