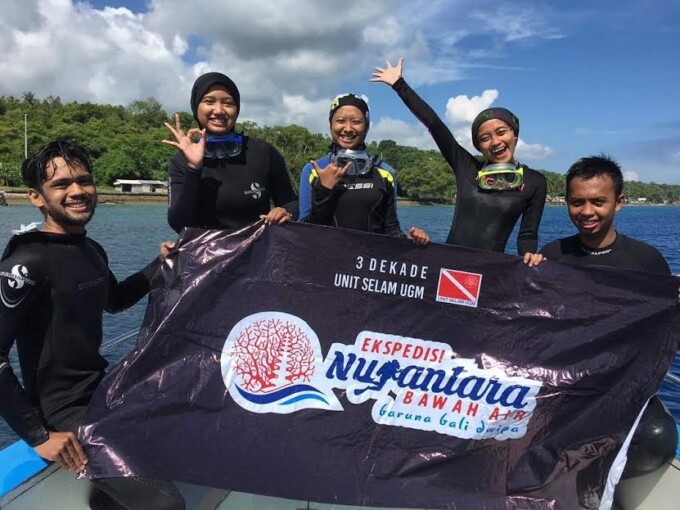 The UGM diving unit has started the Underwater Nusantara expedition in Bali from 22 April 2017 up to September. They will do underwater research in 30 spots of diving.
Nusa Lembongan is the first spot documented by the diving unit, lasting from 22 – 24 April 2017. There are five spots here being explored, namely SD, Manta Bay, Mangrove, Toyapakeh, and Buyuk. In the SD spot at Nusa Penida, the team had to do drifting or diving following the current, so did at the Mangrove and Toyapakeh spots. Despite their first drifting attempt for the majority of the group, they enjoyed the experience.
Meanwhile, the dive at Buyuk and Manta Bay were rather different because there was no current there. They found some sea biotas such as angle fish, scorpion fish, box fish, clown fish, nudibranch snail, stone fish, and turtles.
Manta Bay is a favourite diving spot for divers in Nusa Lembongan because this is the habitat of manta ray fish.
"Unfortunately, the team only met one manta ray when diving here," said Rimba.
Another interesting thing they found was that they met foreigners more often than the local people, especially those that run on tourism sector.
Big Fish Diving, is just one of dive operators in Nusa Lembongan. From the manager to the guides, the majority is foreign citizens with only two local guides. Big Fish stated that in average they only served 5-7 groups of local tourists, the rest is from abroad.
"Indonesians rarely go here. When they do, they don't dive", said Bobby, one of the local guide from Big Fish Diving.
Diving is still seen as an exclusive and expensive sport in Indonesia. This makes interest in diving here small despite the title as the most popular diving destination in 2017 awarded by Dive Magazine in the UK.
Concerned with this issue, the UGM diving unit will try to do more underwater expeditions, one of those is through the Underwater Nusantara mission. This is a media for UGM diving unit to get to know Indonesia closer by seeing directly the underwater beauty which for most students is seen only on social media. The expedition will last until September with the next spots being in West Bali National Park, Tulamben, and Padangbai.