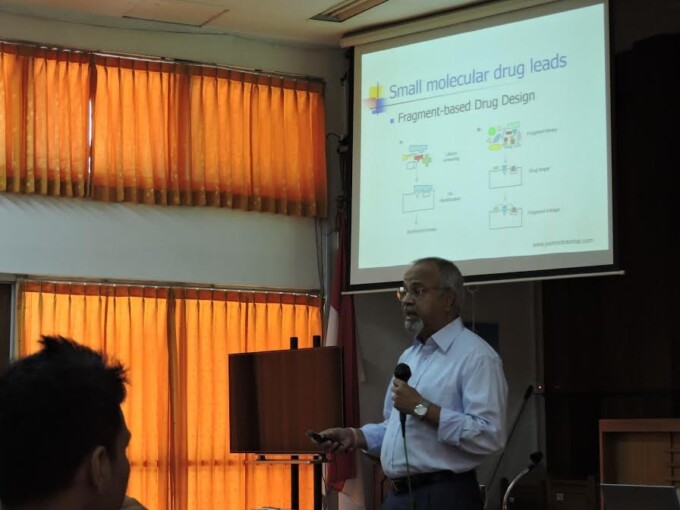 Researchers in biomedical sector are racing against time to find solutions for clinical problems. Different from research in medical science which is an applied science, basic biological science plays an important role to strengthen the foundation of biomedical research. The research that uses a traditional approach takes even more than 17 years to be used directly by patients with certain diseases. On the other hand, by using new methods development, the discovery of medicines and treatment methods can be shortened, thus they can soon be used by the society.
During a general lecture entitled From Basic to Biotech Business: Path to Clinic which was held on Friday (2/6), Prof. R. Majunantha Kini as the main speaker presented every detail of his research, from the basic research until the discovery of medicine that can save the lives of many patients.
During medical treatment, blood clot often occurs that causes blockage of blood vessels which can be fatal for the patient. In order to overcome this problem, Prof. R. Majunantha who holds dozens of patents from Protein Science Laboratory, Department of Biological Science, National University of Singapore, has been utilizing chemical compounds contained in animals.
"Dangerous animals such as snake, scorpion, bee, mosquito, and leech, turn out to contain active chemicals that can be utilized as anti-blood clotting medicine," said Prof. Majunantha.
In the process, he went through various research stages, from modeling the protein structures, synthesizing proteins, until testing the compounds to the patients. After ensuring their effectiveness and safety, such chemical compounds can become business commodities.
"To start a business, there are generally 3 keys being required which are idea, money, and personnel," said the researcher in one of the best laboratories which study the structures and functions of protein in the world in front of undergraduate and graduate students as well as lecturers of Faculty of Biology UGM.
The presentation of Prof. Majunantha regarding the stages of a protein biological research is expected to open the insight of the general lecture participants that basic biological science plays an important role in determining the next stages until it comes to the production and business.