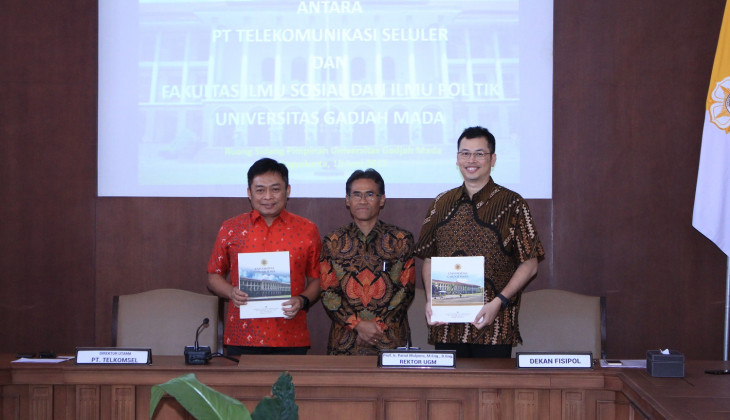 Faculty of Social and Political Sciences UGM collaborate with PT Telekomunikasi Seluler (Telkomsel) to support the construction of digital laboraty facilities. Telkomsel donated funding worth Rp3.5 billion for providing educational facilities and infrastructure for UGM students.
Rector of UGM, Prof. Ir. Panut Mulyono, M.Eng., D.Eng., hoped the digital library developed by the Faculty would become the model for digital library at UGM.
He expected that the facilities and infrastructure of the library could be utilised by the students of the Faculty and from other Faculties. "The concept of the digital library can be the model that can be utilised by students from other Faculties as well," said the Rector after signing the collaboration agreement in the conference room at UGM Main Office on Thursday (15/6).
According to the Rector, the library is the heart of the university because it is where knowledge can be absorped by the students. Currently, however, library has experienced an evolution from collecting many books to collecting digital forms through communication technology and video. "The benefits of such evolution turn out to be much bigger for the visitors," he said.
Dean of Faculty of Social and Political Sciences, Dr. Erwan Agus Purwanto, appreciated Telkomsel that has supported education at higher education in the form of digital library facility development. "We all know that transformation of education is no longer analogous but digital," he said.
The development of digital library facilities, according to the Dean, is to provide facilities to current students who cannot be apart from communication technology and information. "Going forward, we will welcome the millenial generation, the way they learn is different from before, that's why this Faculty responded to that phenomenon," he said.
Furthermore, Faculty of Social and Political Sciences has designed online lectures and implement interactive learning model.
Director of PT Telkomsel, Ririek Adriansyah, said the collaboration on digital library facilities was a form of contribution from Telkomsel to encourage national education advancement. "This collaboration is part of our efforts to give contribution in education to the young generation," he said.