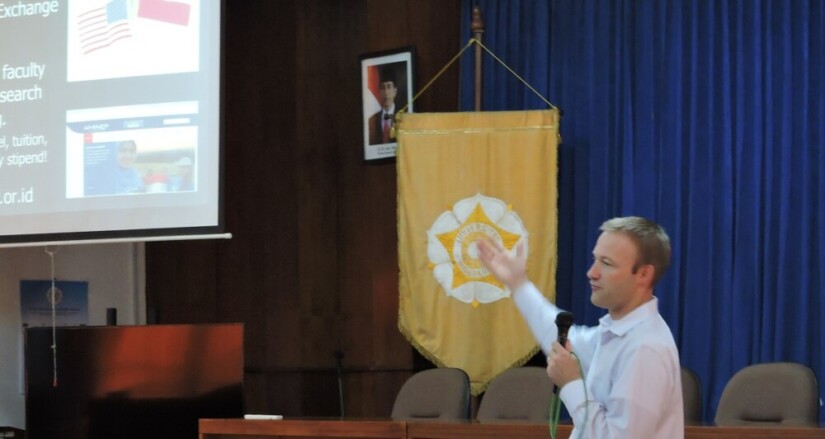 Faculty of Biology UGM enhances global network. Not only does it host guest lecture but also enhances collaborations. The College of Idaho, USA, had dispatched Dr. R. Luke Daniels to become Associate Professor at Faculty of Biology UGM. The neurobiologist and molecular/cellular biology expert has stayed for six months in Indonesia in the Fulbright Fellowships. He shared his experience in the Auditorium of the Faculty on Wednesday (5/7).
Dr. Luke has contributed much to the learning process at Faculty of Biology UGM. He gave lectures on Biochemistry, continuing education Biochemistry, Animal Development Structure, Histology, and more.
"While in Indonesia, I did 10 workshops, 8 of which were on Bioinformatics for lecturers, another one on scientific writing, and one on Bioinformatics for general public," said Dr. Luke.
Whilst at UGM, Dr. Luke also opened discussions for lecturers and students of the Faculty on scientific writing and research project formulation.
He explained that research collaboration with international institutions can improve research quality. According to Dr. Luke, this was shown by the high citations of scientific papers that were written by researchers from institutions from a number of countries as compared to if written by researchers from a local institution. To realise this, Dr. Luke hoped to be able to return to Indonesia and form collaborations with Faculty of Biology UGM.