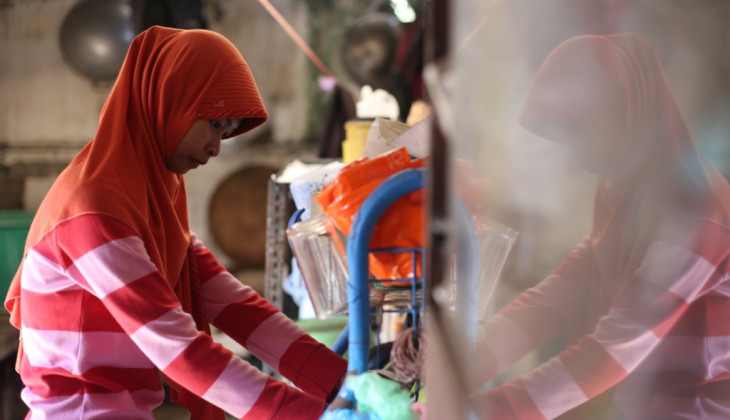 Budi Suhartati still remembers when her youngest daughter, Elan Galant Saputri, expressed her wish to study at Faculty of Medicine, Universitas Gadjah Mada. But she was forced to ask her to forget her dream due to the uncertain earnings of the family. Who would have guessed that Elan eventually got accepted at Nutrition Health study programme at UGM.
When met at their home in Cilacap, she was just doing home cleaning as there was nothing else to do. Sometimes she would do the dishes at a nearby food stall, ironing or cleaning at her neighbours'. Her husband, Agus Sudiarto, works as a bricklayer that earns a maximum of IDR60 thousand per day.
"We don't have regular jobs, sometimes we have something to do, sometimes we've none. When we have livelihoods, we can afford it, but we cannot afford if we have none to do. Sometimes our relatives would help financially," she said.
Despite the hardship, Elan fought her way on and enrolled herself at UGM. She relied her hopes on the government Bidikmisi scholarship. Since high school at SMAN 1 Cilacap, Elan was determined to study Nutrition Health at UGM.
Her mom is the witness of her hard work studying for her future.
"Elan always studies hard. She would study until late at night, sometimes I woke up very early and I would find her still studying. She had strong desires to take lectures," she said.
This all made Elan earn scholarships which were really helping the family.
Even if the mother was convinced that her daughter could achieve whatever she wanted, the mother was still very surprised to know that Elan was finally accepted at UGM.
Elan's father immediately went home after being told of the good news. "Afterwards, I couldn't sleep all night long due to my excitement," he said.
Elan was in tears when she told us the happy moment. She was proud of herself because her struggle has finally paid off and she has been accepted at her dream faculty.
"I like studying nutrition as it has many aspects to it, calculation, health, social aspect, etc. I had been thinking about it for a long time," Elan said.
Ahead of her departure from Cilacap to Yogyakarta for the university, she promised her parents to study seriously, not just for herself, but also to make her parents happy that have always supported her.
"I want to study hard, be an outstanding student to make my parents happy. I just want to make them proud," she said.