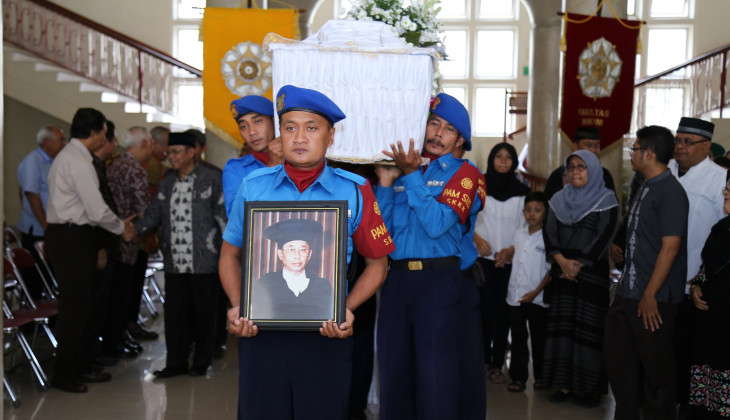 UGM has grieved once again, one of its best academician, law professor, Prof. Suhino, S.H., passed away at 82 years of age on Wednesday, 12 July 2017, at Wirosaban general hospital in Yogyakarta.
The state law expert was laid to rest at the UGM cemetary of Sawit Sari on Thursday, 13 July 2017. Previously, he was given last respect by UGM academic community at Balairung UGM.
Prof. Putu Sudira, Chair of UGM Board of Professors, representing UGM academic community, sent condolences to the family.
During his life Prof. Suhino had strong commitment and dedication to the development of state administration law.
"Throughout his life, Prof. Suhino had contributed much of his thoughts and knowledge to the state administration and laws," said Prof Putu Sudira during the funeral ceremony.
According to Putu Sudira, the late Prof. Suhino was a law academician in legal positivism who strongly upheld the norms. In his professorship remarks on 10 August 2000, he delivered his speech titled Legal Aspect in Indonesian Legislation System. In it he said the process of law drafting had to undergo established rules to avoid precedence. Legislation is not about law drafting only but also the drafting process.
"Government needs to also pay attention in this process because it is their services being given to the citizens to meet their right of information," said Putu Sudira.
Putu Sudira viewed the late Prof. Suhino as someone that often wrote his thoughts into a book. The State Science written in 1985 is a monumental work that has been reprinted several times.
"The book has shed much light to the readers. I wish his family to be strengthened in this difficult moment. Further we hope many smart people are born at Universitas Gadjah Mada just like Prof. Suhino," he said.
In the biography of the deceased that was read out by Dean of Faculty of Law UGM, Prof. Dr. Sigit Riyanto, S.H., LL.M., it was stated that Prof. Suhino was born in Klaten, 17 August 1935, became Chairman of Legal Unit of the Faculty in 1976-1977 and 1979-1982. He left his wife, Siti Rahayu, and two daughters, Indriati Wahyuningsih and Ari Dewanti.