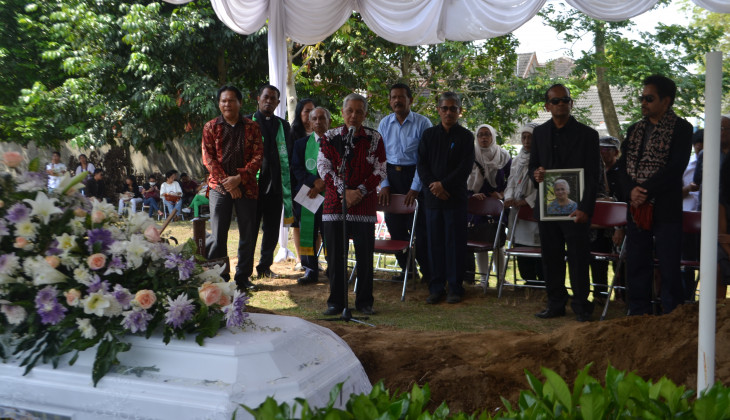 Annie Marie Gilbertine Johannes Amalo, the wife of the second Rector of Universitas Gadjah Mada, Prof Herman Johannes, passed away on Wednesday (12/7) in Yogyakarta at the age of 90 years.
UGM Vice-Rector for Research and Community Service, Prof. Dr. Suratman, M.Sc., expressed condolences to the family. "UGM extends deep condolence to the loss, may she rest in peace in the after-life," said Suratman, giving a speech during the funeral event at the UGM cemetery compound in Sawitsari, Sleman, Yogyakarta, on Monday (17/7).
According to Suratman, the late Annie Marie had made a geat contribution during her life, supporting her husband whilst being Public Works Minister and Rector of UGM. "We knew very well that UGM has grown to be where it is today due to the leadership of Prof Johannes as the second Rector of UGM and the support from his wife, their leadership and role models, so UGM can be where it is now," he said.
Suratman added, even during her final years, Annie Marie was often asked for her views on how to develop UGM based on her experience when she was still together with her husband.
"We would like to express our due respect to the both of them, their life history and endeavours will be immortalised at the UGM Museum," he said.