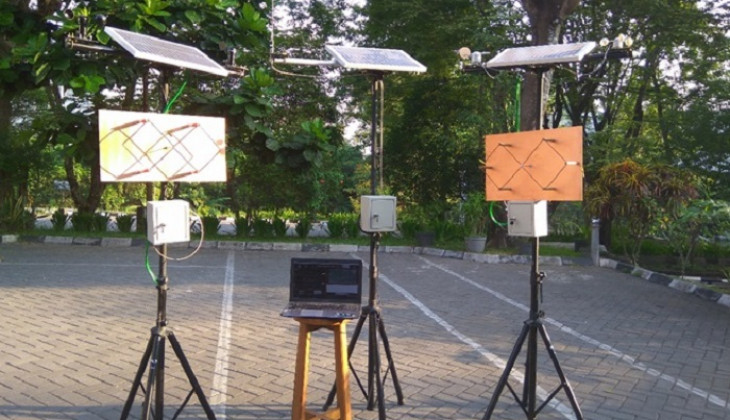 UGM students never stopped to make innovations. This time, four UGM students create an innovation of renewable energy data retrieval system using telemetry named as REN-Locator. The system is created by Ahmad Sony Alfathani (Engineering Physics), Meizar Raka Rimadana (Information Technology), Rilwanu Ar Roiyyan (Electronics and Instrumentation), and Fiha Febiala (Information Technology). REN-Locator can transmit data of renewable energy parameters measurement to remote areas. The potential of those areas will be monitored by field surveyors.
REN-Locator is made to solve the problem suffered by the field surveyor who is required to retrieve data in many points in a field. Unfortunately, the locations are often difficult to reach and the surveyors are required to stay in the locations for a long time. Therefore, REN-Locator can help the field surveyors to retrieve data in many points simultaneously without requiring many human resources.
"Using REN-Locator, the surveyor does not have to stay in the location for a long time, either," said Ahmad Sony Alfathani, the leader of REN-Locator team, on Tuesday (18/7).
Moreover, REN-Locator is also able to retrieve data continuously for years. It is equipped with a sub-system that can convert solar energy into electricity. The electricity is used as the main energy to operate the system. The operation is performed by doing a mission of retrieving data of renewable energy parameters which are obtained from each monitoring station. The data will be transmitted to the main station to be collected. The data transmission by each monitoring station is done using Half Duplex method.
REN-Locator is also equipped with IoT (Internet of Thing), thus the data not only can be accessed from the main station but also the other places that have an internet connection. In addition, it has a feature that can set the number of required monitoring station during the field data retrieval.
This system is expected to give convenience for the field surveyors when performing their jobs and give significant benefit to the nation in developing renewable energy utilization.