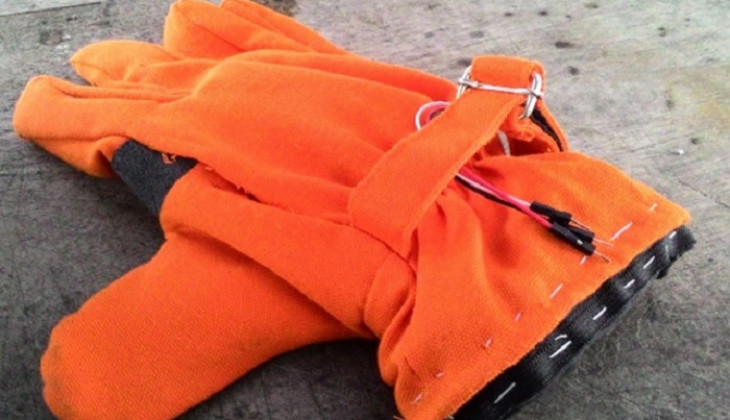 In general, the society often finds household problems. Ironing is one of those problems because ironing using conventional iron is boring and taking a long time. All conventional irons have the same model which has a heavy weight and a handle on the top so it is quite tiring, because there are 2 simultaneous movements to do during ironing, which are gripping the handle and ironing the clothes. Moreover, it consumes much electricity up to 300 Watts.
Concerning those issues, UGM students through the Students Creativity Programme on Innovation 2017 create Iron Glove. The students are Rabih Katon Dwicahyo (Mechanical Engineering) as the team leader, Muhammad Aulia Ramadhan (Electrical Engineering), Muhammad Hanif Ibrahim (Electrical Engineering), Sumardi Sembiring (Industrial Engineering), and Yendri Maryesi (Civil Engineering), who create the latest innovation on ironing, Iron Glove, in order to make ironing more practical and economical. The Iron Glove development is under the supervision of Dr. Eng. Igi Ardiyanto S.T, M.Eng.
Iron Glove is an iron in the form of a glove. This technology uses Nomex material which is resistant to heat and electricity. According to Rabih, this material is the main material of firefighter uniform. Iron Glove also uses a coil to convert electricity into heat. It has 1 port for Li-Poly 12 Volt battery as the main power supply and it uses Arduino Uno microcontroller as well as touchscreen LCD to control the temperature.
In order for the heat to be distributed evenly, Iron Glove uses an aluminum plate as the heating element that has direct contact with the clothes. The heating element is located on the palm side of the hand so that the hand is utilized to iron the clothes instead of holding the iron handle.
"This function can reduce the ineffective movement, thus the hand can instantly tidy up the clothes whilst ironing simultaneously," said Rabih on Friday (21/7).
Therefore, ironing will become a quite fun and more economic activity because this iron has a glove model that fits the size of the hand.
This technology is perfect for 20-40 years old housewives who want to be more efficient in using electricity as well as workers who are very busy, because Iron Glove is the first mobile ironing technology in the world which is easy to carry anywhere and only needs small space.
"This Iron Glove technology is expected to provide many benefits for both regional, national, as well as global communities," he added.