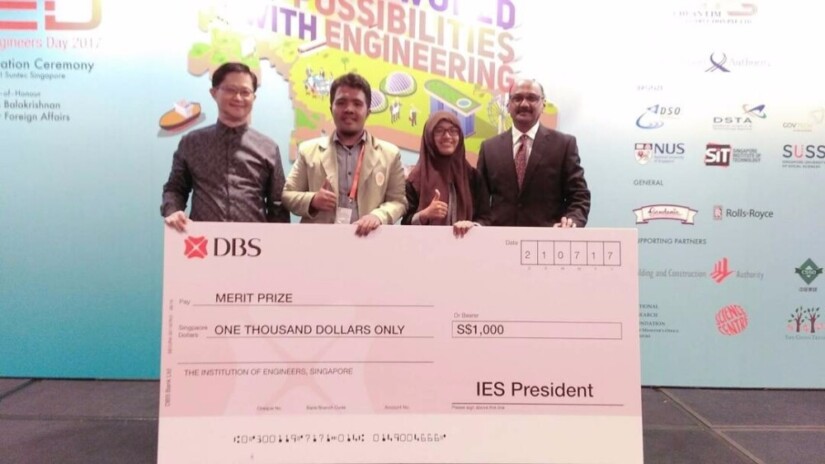 Fossil fuel energy consumption is still high at present. BP Global in 2016 recorded the consumption of global primary energy increased by 1% in 2015. Petroleum is still the main fuel at 32.9% of the total consumption of global energy. Each day consumption of global petroleum reaches 1.9 million per barrel.
World dependence on fossil fuel energy has impacted the environment. US Energy Information Administration (EIA) 2017 revealed use of fossil fuel will increase emissions of several pollutants to the air, such as SO2, NOx, and CO2.
This phenomenon has triggered five students of UGM to develop technology innovation to minimise environmental impacts and energy crisis due to fossil energy consumption. The students develop a microbubble generator to increase productivity of microalga plant that is potential to be developed into bioenergy.
The students are Bagas Alqadri, Syahirul Alim Ritonga, Levina Ariesta Mayasari, and Arief Faqihudin (Mechanical Engineering) and Lathifah Zahra (Biology). Their technology earned Merit Award in the Energy Innovation Challenge 2017 at Suntec Exhibition, Singapore, from 19 -21 July, joined by tens of teams from across the world. The UGM team was named world big 6.
Bagas explained microalga has high potential as bioenergy resources. Unfortunately, the microalga productivity cultivated by farmers is still low, because they use traditional method and it requires a sizeable land, which cannot yield plenty and quick production.
"This explains our making the tool to boost quick growth of microalga," he said on Tuesday (25/7) at Faculty of Engineering UGM.
The microbubble generator named as "ALMINO" helps optimise microalga growth as promising bioenergy resources for the future. It can also contribute to reduce global warming effects by catching carbons (CO2) in the air and is used as microalga photosynthesis material.
"With this technology we can increase the amount distribution of of dissolved CO2 in the water as it produces smaller bubbles compared to bubbles size produced by average aerators," he said.
Microbubble generator breaks particle size of CO2 into micro size, making the CO2 easier to be absorbed by the microalga. Direct observation resulted that microalga cultivation pond that is installed with microbubble generator showed better developments than in pond installed with regular aerators.
"The colour of the microalga is greener, thus much better growth," he said.
Arief Faqihudin said the technology can also distribute particles of CO2 down to the bottom of the pond and minimise the amount of CO2 in nature.
"CO2 is caught by CO2 trapper to inject into the microbubble generator. Next, CO2 is broken into micro size particles to be sprayed to the pond with water," he said.
ALMINO has two main components, microbubble generator and water purifier. It is made into installation with a medium pump and hoses. It cost them Rp1.5 million to make the installation.
"The tool is easy to use, easy application, and easy maintenance," he added.
ALMINO is an innovation that can help increase microalga productivity as future energy resources as well as reducing global warming impacts.