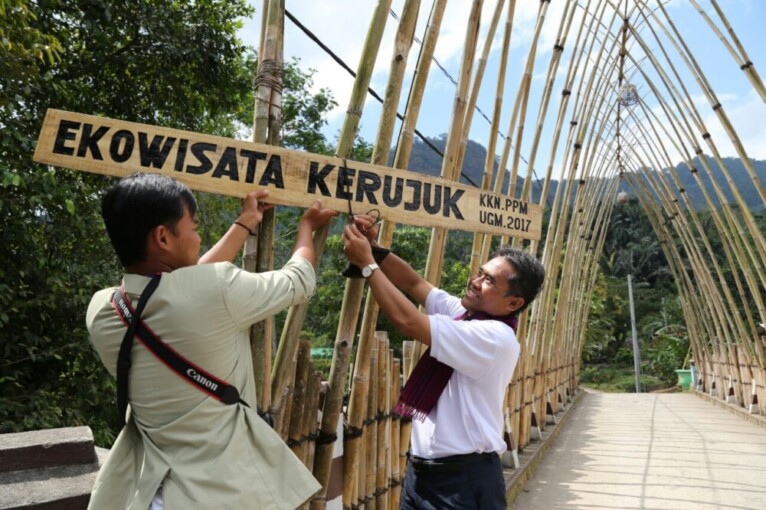 Rector of UGM, Prof. Ir. Panut Mulyono, M.Eng. D.Eng., visited the location of the Student Community Service programme in West Pemenang village, North Lombok regency, West Nusa Tenggara, along with university leaders and journalists on Saturday (29/7). In the village, which has a population of 16,323, some 30 UGM students are doing community service and community empowerment projects. One of them is the development of the Kerujuk ecotourism attraction.
"The focus of the development of Kerujuk ecotourism is to be a site of excellence and centre of tourism in North Lombok Regency," said student team coordinator in Pemenang, M. Rifky Al-Ghifari.
At the 4 hectare site, the UGM students have developed various unique destinations to attract visitors, for instance outbound facilities and a unique venue for taking photos like those in Yogyakarta which has already become an attraction.
Rifky explained the UGM students were assigned to three areas in West Pemenang village, namely Kerujuk, East and West Menggala hamlets, as well as Telaga Wareng hamlet. Each has its own potential.
Apart from system development and ecotourism management, the students in Kerujuk hamlet have programmes of excellence which are empowerment of community health, aerial photomapping and disaster mapping, tourism mapping and revitalisation of library. In East and West Menggala hamlets, which are culture and arts villages, the student programme focused on empowerment of human resource development, tourism destination, and local culture enhancement. The focus in Telaga Wareng is on agriculture and farming projects.
The student programme has been appreciated by the Rector of UGM. He said the students had contributed their efforts and capacity to implement the programmes for the society.
Panut said the UGM student community service programme gave opportunities to the students to have firsthand experience of the real conditions and problems in the society so that they have emphathy towards the population that has not enjoyed much progress so far.
"The goal of the student community service is not just to give what we have to the regions to progress, but to also give our students the chance to learn directly from society," he said.
Village chief of West Pemenang, M. Syukri, and Head of North Lombok Tourism agency, Muhammad, S.Pd., also appreciated the work of the UGM students. They praised the innovation and hard work showed by the students who had been staying there for 47 days.
"We would like to extend our gratitude to UGM for dispatching its students to help our villages. I hope with the support from you all, the Pemenang village would be able to flourish," said M. Syukri.