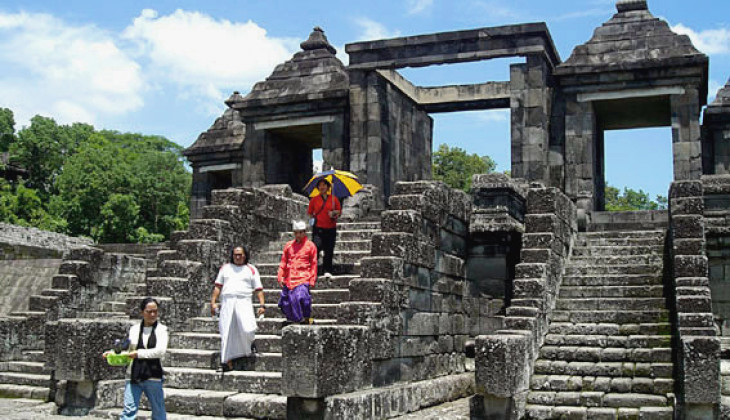 The management of cultural heritage tourism in Ratu Boko Temple area is considered not optimal. One of the reasons is caused by stakeholders who have yet to be involved in this area management.
"The local community is also not satisfied with the management process in this cultural heritage tourism area," said Maria Tri Widayati, S.S., M.Pd. on Monday (31/7) during an open examination for her doctoral programme at Graduate School UGM.
Maria explained the existing problem in the management of the surrounding area includes land ownership at Ratu Boko Temple site. Zone 1 is supposed to be sterile, but it is still utilized as a residential area. In addition, there is a conflict related to village streets in the cave complex that occurs due to the lack of involvement of local community in the management as well as the utilization of the site for herding their cattle.
Aside from the problem with the local community, there are other issues that occur between the management boards such as the management boards coming from different ministries with different interests and the coordination issue at the field. PT TWC BPRB has not fully involved the other stakeholders in the management of Kraton Ratu Boko tourism area that results in an imbalance between the conservation and utilization.
Looking at this phenomenon, Maria emphasized the importance of identifying the interests of all stakeholders in order for the tourism management to succeed. The steps that can be done including performing a consultation with the local community in planning and paying attention to the power of the environmentalist and conservationist towards the negative impacts of establishment in the tourism management. It is equally important to pay attention to the stakeholders as the important source of information regarding the conditions that affect the environment as well as the visitors' experience. Moreover, it is also important to involve the stakeholders in the management process as a forum to exchange ideas and achieve agreement in solving the tourism issues.