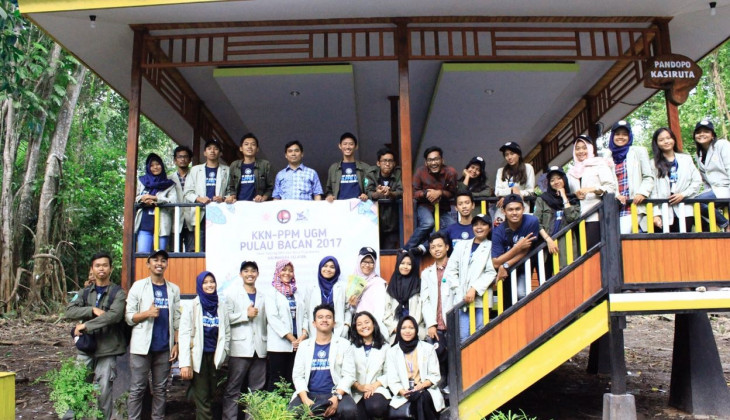 South Halmahera regency in the Moluccas has 250 thousand inhabitants. Pulau Bacan island in the regency is one of the producers of chrysocolla.The area was once famous with the production of chrysocolla when gemstones were a hip. During this period, the gem sold fantastically until tens or even hundreds of millions. But this condition was short lived. Now the price has dropped down drastically.
With its sea areas spanning almost 75% of the total size, the fishery potential of Pulau Bacan becomes the main commodity. Fisheries are the livelihoods of the majority of the population besides agriculture, such as coconut, clove and nutmeg. But due to the minimal knowledge and technology of the people, these types of yields cannot be used optimally yet. This obviously made the economy and welfare of the local people vulnerable to natural conditions.
Seeing this condition, Universitas Gadjah Mada students that were doing a student community service programme in Pulau Bacan found simple methods to make the local people of Pulau Bacan able to optimise the natural potential that were available. Quality improvement of agriculture and fishery products is expected to increase the people's economic resilience. But this is obviously not easy to achieve, because the people have long been accustomed to their comfort zone. But through the student community service programme, the people and the students learned hand in hand and found simple yet new ways to make good use of the natural potential of Pulau Bacan.
After making some basic technology for agricultural and fishery product processing, these innovations were finally displayed to the people in an Expo, coinciding with the National Family Day on Tuesday (25/7). The event was opened by North Maluku Governor, H. Abdul Gani Kasuba, Lc., accompanied by South Halmahera Regent, Bahrain Kasuba, S.Pd. M.Pd.
Dozens of agricultural and fishery products were exhibited in the event, including fish shreds, fish balls, fish nugget, coconut oil, VCO, nata decoco, assortments of banana snacks, fruit juice, and nutmeg sweets.
UGM Field Supervising Lecturer, Suherman, M.Sc. Ph.D, said the local people were very enthusiastic with the programme. They hoped this would repeat in the following year. The focus of the programme was to increase the quality of agriculture and fishery products as well as opening marketing distribution to consumers.
"Hopefully, with the UGM student community service being done here, the people of Pulau Bacan can prosper not just by the chrysocolla, but also its agricultural and fishery products," said Suherman.