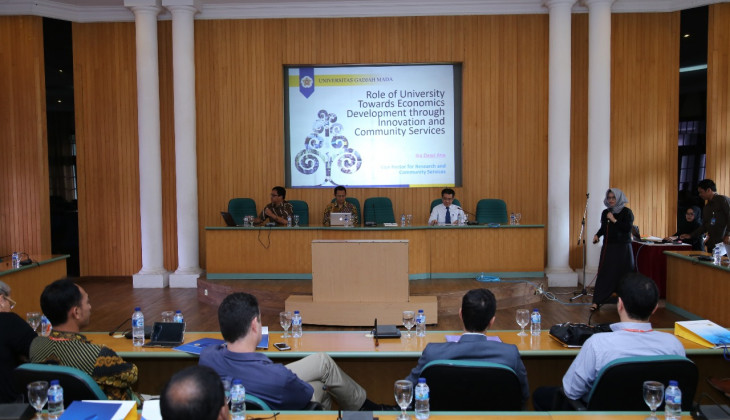 UGM receives a visit made by 24 university leaders and government officials from 19 member countries of Asian Productivity Organization (APO) on Thursday (10/8). It aims to learn UGM best practices on improving quality and productivity in its bid to increase the level as a qualified and competitive university nationally and globally.
The delegation came from Asian countries such as Bangladesh, China, India, Fiji, Iran, Japan, South Korea, and the Phillipines. The visit is part of the Workshop on Productivity Measurement in the Higher Education Sector, organised by Japan based APO, in collaboration with Indonesian Manpower Ministry.
Four representatives from UGM had the chance to present UGM achievements and work plans in the meeting. Head of International Affairs Office, Dr. I Made Andi Arsana, presented international affairs arrangement at UGM, Head of Publishing House, Widodo, S.P., M.Sc., Ph.D., explained scientific publications published by UGM, Head of Quality Assurance Office, Prof. Dr. Indra Wijaya Kusuma, M.B.A., explained academic quaility.
UGM Vice-Rector for Research and Community Service, drg. Ika Dewi Ana, M.Kes., Ph.D., presented academic innovation, explaining strategies taken by UGM to improve quality to be able to make contributions to the state progress.
"Currently, there is a gap between Indonesia and other countries, especially related to contributions to technology development. Seeing this condition, UGM is trying to bridge the gap by making innovation," she said.
The innovayion includes collaboration with the industry to build science technopark and teaching factory, developing international programme to improve quality and international reputation, and encourage extracurricular activities that can develop socio-enterpreneurship spirit.
"The quality of a university is not only visible from the research outcomes of its graduates, but also the social impact of the university. What we are doing is our way to respond to challenges and problems arising in society," she said.
Participants of the meeting welcomed the description from UGM. "We learn many things from this meeting. I would like to thank the speakers that have shared knowledge and best practices that have been done by UGM," said a participant from Sri Lanka.