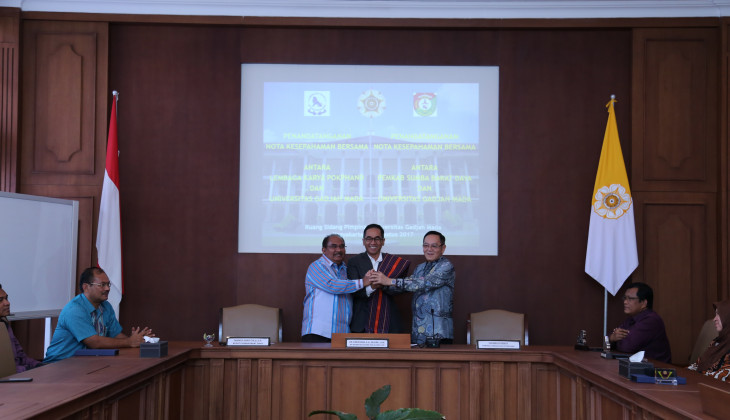 UGM has established cooperation with Pokphand institute (LKP) and Sumba Barat Daya regency, East Nusa Tenggara, in education, research and community service.
An MoU was signed by Vice-Rector for Cooperation and Alumni, Dr. Paripurna, S.H., M.Hum., L.L.M., Pokphand leader, Thomas Effendy, and Vice-Regent of Sumba Barat Daya regency, Drs. Ndara Tangga Kaha, on Friday (11/8) at UGM Conference Room.
Thomas Effendy said the cooperation was in the form of scholarship provision for underpriviledged students, which is an effort by LKP to build the state through education.
"In 2017 the LKP allocates scholarships for students from 12 Indonesian universities. To each university we provide scholarships for 20 students who are financially incapable," he said. Thomas hoped the cooperation would benefit quality development of students and higher education, also to support state development.
Vice-Regent Drs. Ndara Tangga Kah said the regency had homeworks in regional planning, human resource while it has agricultural potential.
"The potential in agricultural and farming sector is big, but it is still done traditionally, hence not giving added value," he said, adding that the area still needs support for human resource development. The cooperation with UGM is expected to help them catch up with others.
Vice-Rector, Dr. Paripurna welcomed the cooperation. The scholarships from the LKP will assist UGM in providing education for underpriviledged students. Currently as many as 15,000 UGM students receive scholarships from many institutions, however, there are many more underpriviledged students than the amounts of scholarships received.
"We find it difficult to get scholarships for underpriviledged students, because donors tend to provide them for outstanding students. So, the scholarship aid from LKP will certainly light the burden of UGM," he said.
Paripurna added that UGM was comitted to helping the government build the state from the peripheries. UGM even priorities students from most isolated and underdeveloped regions to receive the scholarships.
"Sumba Barat Daya has promising potential, we're optimistic with human resource development, this area can progress," he said,
An MoU was later signed between LKP and Faculty of Veterinary Sciences UGM and Faculty of Animal Sciences UGM between LKP leaders and Deans, Dr. drh. Siti Isrina Oktavia Salasia and Prof. Dr. Ali Agus, DAA., DEA.