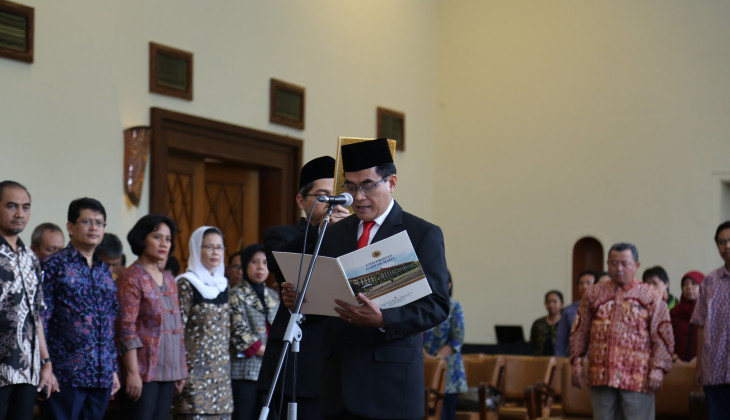 Rector of UGM, Prof. Ir. Panut Mulyono, M.Eng., D.Eng., inaugurated Prof. Dr. Ir. Djagal Wiseso Marseno, M.Agr., as Vice-Rector for Education, Teaching, and Student Affairs of UGM for the period of 2017-2022 in the Senate Hall on Monday (14/8). The former Dean of Faculty of Agricultural Technology replaced his predecessor Prof. dr. Iwan Dwi Prahasto, M.Med.Sc.,Ph.D.
The Rector said in his remarks that the inauguration of Prof. Djagal as Vice-Rector had been delayed due to administrative arrangements. Previously, Prof. Djagal served as Deputy Head for Strategic Review at National Resilience Institute. "His inauguration as Vice-Rector has been delayed because we had to wait for his return from the National Resilience Institute and his re-activation as UGM lecturer. We're thankful now that the process had run well," he said.
According to the Rector, the duty of Vice-Rector for Education, Teaching, and Student Affairs would face challenges in terms of improvement of academic and student affairs reputation both at national and international levels. These include how to extend the number of study programme to earn international accreditation, designing guidelines for academic policy as well as sustaining UGM tradition for achievement in student activities. "There are many things that we need to improve," the Rector said.
The Rector expected Prof. Djagal to be able to have good interactions with university and faculty units as well as between Vice-Rectors to resolve academic and student affairs. "Don't let information get blocked that can hamper a programme," he said.
Furthermore, the Rector witnessed the handover ceremony from former Vice-Rector for Planning, Finance and Information System Dr. Didi Achjari, S.E., Akt., M.Com. to the current Vice-Rector Dr. Supriyadi, M.Si., Akt. Finally, Prof. Panut thanked Dr. Didi Achjari who had completed his duties well. "During his service as Vice-Rector, financial arrangement and accounts have been better managed. Even the funds from partnerships with the industry have been more easily monitored," he said.