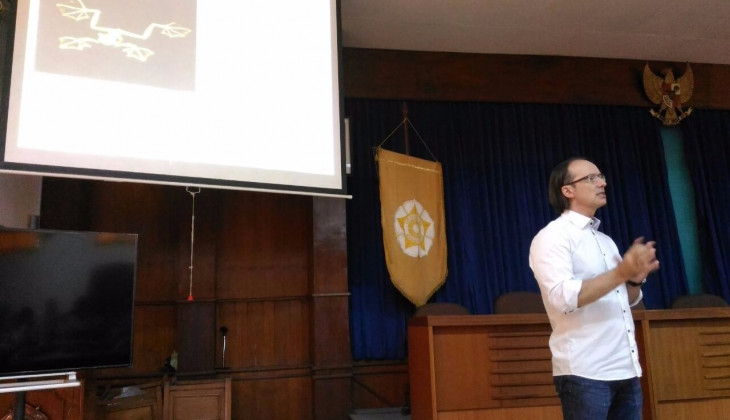 Indonesia is a nation with the second-largest biodiversity in the world after Brazil, including the type of herpetofauna. This condition gives a big opportunity to the Indonesian researchers to conduct a herpetofauna research.
The World Herpetofauna Expert, Prof. Dr. Alexander Haas shared his experience in researching amphibians, particularly tadpoles in Sumatera, Java, and Kalimantan (Sunda Region) during a general lecture at Faculty of Biology UGM which was held on August 15, 2017. Alex who is a researcher at Center for Natural History, University of Hamburg, Germany, delivered a presentation entitled Approaches to the Biodiversity and Morphology of the Frogs in the Sunda Region.
More than 25 years, Alex focuses on researching tadpoles in Sumatera, Kalimantan, and Java. In Sumatera, Alex had conducted research regarding the evolution of Gastromyzphorus tadpoles. In the occasion, Alex also delivered a presentation on the importance of studying amphibians diversity based on its morphology. According to Alex, the research can be done on the adult individual (frog) or the larvae which are tadpoles. Various research methods that can be used are Micro-Computer Tomographic (µCT), Histology, Episcopic microtomy, 3D-visualizations, Finite Element Analyze (FEA), Multibody dynamics (MBD), and Phylogenetic systematics.
During the opening of the general lecture, Dean of Faculty of Biology UGM, Dr. Budi Setiadi Daryono, M.Agr.Sc. said the presence of Prof. Alexander is expected to increase the knowledge of the students, particularly regarding the current progress and techniques of research on amphibians in the world.
"The presence of Prof. Alexander gives us an opportunity to learn and know amphibians from its morphological and molecular perspective using the current methods," said Budi.
In the occasion, Budi also encouraged the students to conduct a herpetofauna research. Moreover, Indonesia has a great genetic diversity in the field of herpetofauna.
"We hope the students can diligently conduct a research because nowadays there are many scholarships in sharing the scheme and funding both at national and international levels," he added.