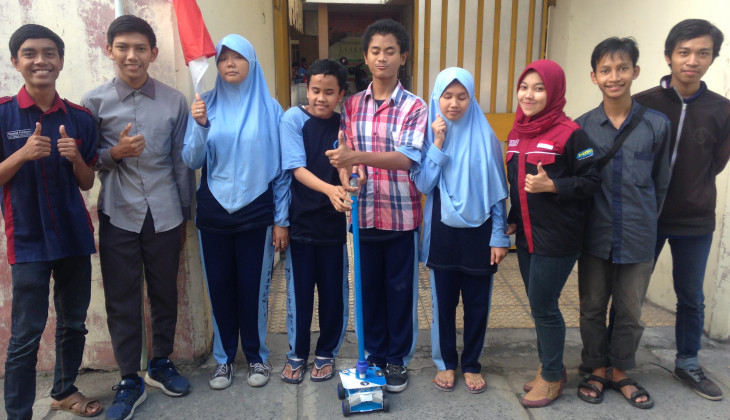 The number of blind people continues to increase every year. Based on The World Health Organization (WHO) data, there are between 40 up to 45 million blind people in the world. Meanwhile, every year more than 7 million people suffer from impaired vision. From those numbers, 90% of the blind cases happen in poor countries.
Most of the blind people have difficulties in determining direction, thus they need a tool such as a walking stick to aid them doing their activities. The current development of blind electric stick is it can detect the objects around the blind people and it will give information in the form of vibration or sound. However, the electric sticks that are available in the market are still ineffective because the blind people still do not know which way they have to move in order to avoid the objects around them. Moreover, they often get lost when they are visiting new places. These conditions worry their families and confuse them to look for their location.
These issues encouraged five UGM students to make an innovation of a tool that can be used to help the blind people in determining the direction. Those students are Ivan Falahul Alam, Dwinta Andika, Rahmad Kurniawan, Fahrul Putra Pratama, and Novemia Rizca Setyani from Diploma of Electrical Engineering, Vocational School UGM. They developed a tool that can help the blind people for not getting lost and it can enhance their independence during doing their activities. The tool which is named as BlindStick is developed through the Students Creativity Programme 2017 under the supervision of Muhammad Arrofiq, S.T., M.T., Ph.D.
Novemia said the blind stick is usually only used to know the field around its users. By knocking it in the surrounding area, its users will recognize the objects around them. However, it will be very dangerous if the users do not know which way they have to go in order to arrive at their destination.
"We develop BlindStick which is equipped with GPS and compass. Therefore, it is able to help the blind people to arrive at their destination," said Novemia on Friday (18/8) in UGM.
BlindStick has two main components which are a receiver in the form of microphone and earphone as well as a transmitter which is a stick that is equipped with GPS, compass, and wheels for helping the blind people to arrive at their destination.
This tool had been tested by several blind people from Yaketunis foundation. The BlindStick obtained a positive response from the blind people in the foundation.
"This tool is very helpful for giving me direction towards my destination," said Akbar, one of the blind people in Yaketunis foundation.