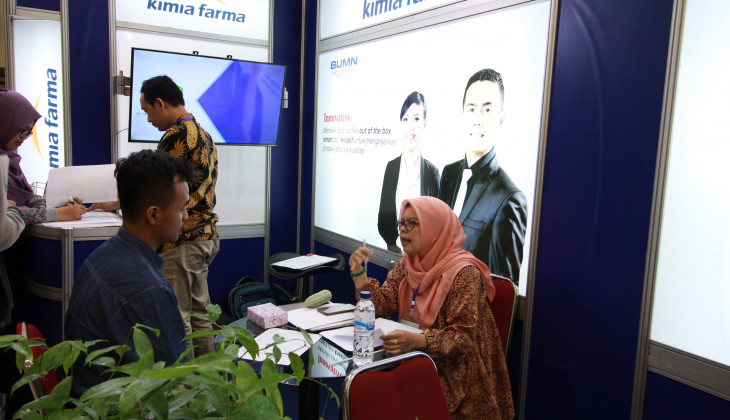 Alumni and Career Development Center (ACDC) of Faculty of Pharmacy UGM held a Job Fair on Saturday (19/8) in Grha Sabha Pramana UGM. Ast least 20 pharmaceutical companies and institutions participated in the Job Fair, including PT. Phapros Tbk., PT. Dexa Medica Group, PT. Kalbe Farma, and Dr. Oen Surakarta Hospital.
Vice-Dean for Research, Community Service and Alumni of Faculty of Pharmacy, Dr. R.R. Endang Lukitaningsih, M.Si., Apt. explained the Job Fair aimed to give introduction to pharmaceutical job market in the industry, hospital, or pharmacist'. The Job Fair is expected to bring job seekers and job providers closer," said Endang.
Dean of Faculty of Pharmacy, Prof. Dr. Agung Endri Nugroho, M.Si., Apt. said the Job Fair was just one of aspects provided by ACDC. The Centre official website gives information on pharmaceutical graduates and pharmacists to those that open vacancies. "Information is quick and easy to collect. With the ACDC website, the waiting time of fresh graduates to get a job will not be prolonged," said Agung.
Since its establishment in 2013, ACDC has conducted many activities. It runs workshops to equip graduates and pharmacists with knowledge, including workshop on public speaking, workshop on interview, and workshop on how to survive in first year. "All ACDC programs have the goal to prepare graduates and pharmacists to deal with the job market," he said.