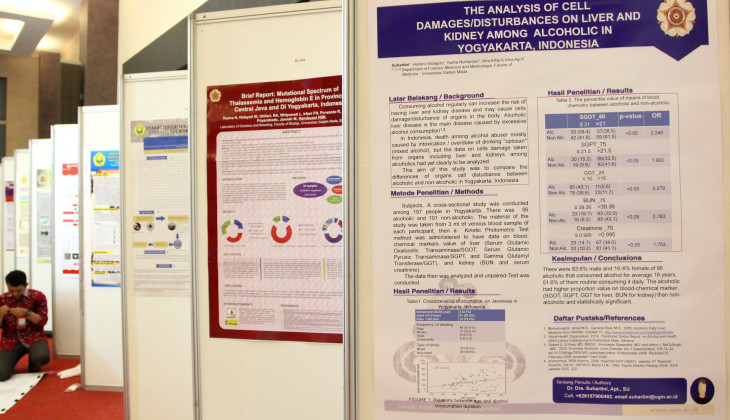 After the success in 2016, this year International Conference on Health Science (ICHS) runs for the second time. ICHS is one of series of annual international conferences in the agenda of UGM Annual Science Conference (UASC). UGM Publishing House as initiators collaborates with UGM academic community from health clusters to contribute to the event. Running from 18-19 August 2017, the event was officially opened by Rector of UGM, Prof. Ir. Panut Mulyono, M.Eng., D.Eng.
As many as 105 participants joined the seminar, consisting of 40 oral presenters, 54 poster presenters, and 11 non-presenters. Speakers are Dr. M. Subuh (Director General for Disease Prevention and Control, Health Ministry), Prof. Yati Soenarto (Universitas Gadjah Mada), Prof. Nai-Ying Ko, Ph.D. (National Cheng-Kung University, Taiwan), and Dr. Yodi Mahendradhata, M.Sc., Ph.D. (Universitas Gadjah Mada).
The conference discusses topics related to the main theme, Current Concept in Infectious Disease. There are five symposiums in the conference, namely Concept in Infectious Diseases: Emerging and Re-emerging Infectious Diseases, Tropical Infectious Diseases, Neglected and Sexually Transmitted Diseases, Drug Resistance, and Technology Related Infectious Diseases.
Selected papers will be reviewed and published in the journals indexed by Scopus/Thomson Reuters/PubMed/DOAJ, such as Global Health Action (Scopus Q1, Thomson Reuters IF 1.896 PubMed), Kobe Journal of Medical Sciences (Scopus Q3, PubMed), Indonesian Journal of Chemistry (Scopus Q4), Journal of the Medical Sciences (DOAJ), Indonesian Journal of Pharmacy (DOAJ), Acta Medica Indonesiana (Scopus Q2), Belitung Nursing Journal (DOAJ), and the Indonesian Biomedical Journal (Thomson Reuters, DOAJ).