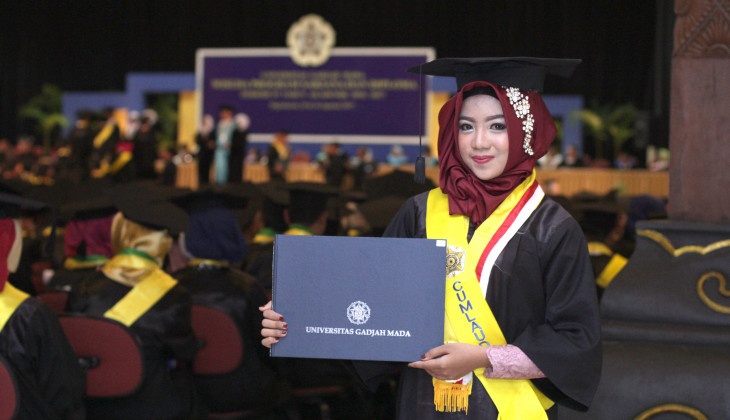 Universitas Gadjah Mada inaugurated as many as 1,729 graduates from undergraduate programme (1,146) and diploma programme (583) on Wednesday (23/8) at Grha Sabha Pramana. Average study time for the undergraduate programme is 4 years and 6 months, while for diploma programme is 3 years and 1 month. The shortest study time for undergraduate is achieved by Yerikho Setya Adi from International Relations Department, Faculty of Social and Political Sciences, who completed his degree in 3 years and 2 months, while the shortest study time for diploma is achieved by Ismiyati Fauziah from Agroindustry Department, Vocational School, who completed her degree in 2 years and 7 months.
The youngest graduate from the undergraduate programme, 19 years and 9 months, is Arya Widyatama from Department of Medical Education, Faculty of Medicine, while the youngest graduate from diploma programme, 19 years old, is Candrika Dyas Arvita from Civil Engineering Department, Vocational School.
Grade Point Average for undergraduate is 3.34 and the highest grade point is achieved by Yulisyah Putri Daulay from Department of Industrial Engineering, Faculty of Engineering, and Raissa Yurizzahra Azaria Harris from Law Science, Faculty of Law, with 3.99. Meanwhile, the Grade Point Average for diploma is 3.39 and the highest grade point is achieved by Yoga Cahya Mahardika from Animal Health Department, Vocational School, with 3.97.
UGM Rector, Prof. Ir. Panut Mulyono, M.Eng., D.Eng., said the graduates who have been inaugurated are expected to give a significant contribution to the advancement of Indonesia and work for humanity. "I hope all of you can take a role in the advancement of our nation," said Panut.
According to Rector, after 72 years of becoming independent, the nation's ambition to realize the fair and prosperous society have yet to be achieved. However, the youth as the nation's intellectual keeps fighting to play a role in the development through their innovations. "We should not complain and hate, but we are supposed to have a concern and passion for the development. Everything that can be improved has to be done with various innovations and good things," he emphasized.
Rector further said it is not enough with innovation in science and technology only, but it also requires innovations in social sector. "Science and technology can indeed bring our nation to be great, move forward and be respected, but without innovation in social sector, the development of technology cannot be controlled, thus it will harm our country. Therefore, these two innovations have to be balanced and synergized," he added.
Lintang Murpratiwi, one of the graduates delivered her gratitude for the contribution of lecturers and non-teaching staff who have supported the graduates so they can complete their degree. Lintang who graduates from Faculty of Geography said during her study, aside from gaining knowledge, she also obtained many experiences from the organizations and community service programme. "For us, science and experience are essential to develop our potential for achieving a better life and contribute to the nation," said Lintang.