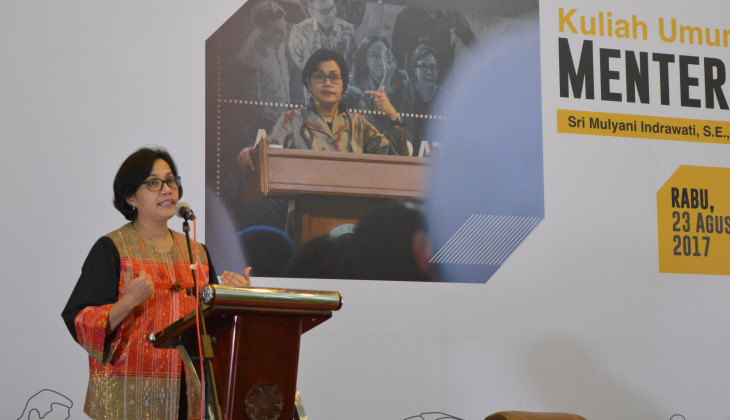 Government spending in the State Budget Plan 2018 announced by President Joko Widodo on 16 August is Rp2,204.3 trillion, while state revenue is targeted at Rp1,878.4 trillion, or a deficit of Rp325.9 trillion. Finance Minister Sri Mulyani said despite this fact, the deficit does not endanger and even maintain the momentum of economic growth.
"We design the State Budget as such so that it won't cause a shock. The deficit is getting smaller, but not removed. The momentum has to be maintained so that the economic growth is maintained," she said when giving a public lecture at Magister Management UGM on Wednesday (23/8).
Sri Mulyani revealed Indonesia is experiencing good economic condition with positive economic growth. Among G-20 countries, she said, Indonesia ranks third in economic growth after China and India.
National economy in 2018, however, will be affected by global economic development that is facing uncertainties and limited growth. To accelerate the economy in 2018, the government will realise government spending which is effective, efficient, accountable while sticking to priorities, supported by optimal state revenue as well as measured and controlled sources of funding.
One of the ways to optimise the state revenue, said Sri Mulyani, is by increasing tax revenue. Tax ratio of Indonesia, according to the Minister, is still low, even if compared to countries with similar characteristics, such as Malaysia and Thailand.
The Minister further said to resolve national economic problems, it needs synergy with other instruments such as monetary policy, production system, private sector, and state enterprises as well as international roles.
"Not all problems can be resolved by the State Budget, but many can be settled. Our State Budget has to go with other instruments to bring Indonesia closer to its goals," she said.
To achieve this, Minister Sri Mulyani asked participants of the lecture and the general public to help observe budget uses against possible abuse.The active public participation has important role to observe the government program and performance to carry out development and offer better public services.
"Now we're holding the responsibility starting from the Independence Day to the goal of having a fair and welfare society. So, I want all the students here to also help observe that," she said.
Similarly, Vice-Rector of UGM for Cooperation and Alumni, Dr. Paripurna, S.H., LL.M. appreciated the works of Minister Sri Mulyani and the Ministry. He asked UGM academic community to participate in supporting the government.
"By instilling a sense of belonging that the state budget is our common possession, together we can participate observing it to be healthy while our economy getting stronger," said Paripurna.