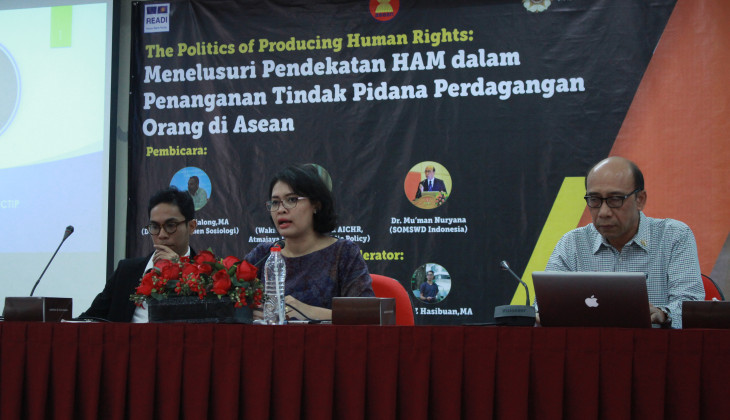 Amidst globalisation in transportation and information technology, nation states are faced with humanitarian crisis such as conflict, migration, and trafficking. Trafficking has now even aggravated that uses more varied modes.
"Trafficking is different from normal crimes. We have to understand the recruitment patterns of trafficking because there are several hidden modes being employed there," said Indonesian representative to the ASEAN Intergovernmental Commission on Human Rights (AICHR), Dr. Dinna Wisnu, in a seminar titled The Politics of Producing Human Rights: Challenges to Implementation of ASEAN Convention against Trafficking on Thursday (31/8) at Faculty of Social and Political Sciences UGM.
The seminar is organised by Sociology Department of the Faculty and AICHR. Dinna revealed human rights based approach to counter trafficking is required, especially of women and children that are rampant in ASEAN. Dinna said settlement of the problem cannot be done only by law because many cases of trafficking happen through routes that are lawful such as migrant workers agency.
"The fact is as high as 85 percent of trafficking cases happened through legal routes," she said.
She explained currently trafficking is done with new modes such as offers for scholarship or minor hajj pilgrimage. Therefore, she reminded people to be more aware of such activities whilst not to telling their personal details in social media that can be made a target by the perpretrators.
"Be careful with your vulnerabilities that can be detected through Facebook and other social media. These can serve as a prey to identify your ambitions that can be abused by them," said Dinna.
Amidst this contentious issue, she urged everyone to play their role to confront trafficking by contributing their ideas and thoughts to resolve the problem.
"This crime is exceptionally serious which needs to be addressed systematically, not just by one side. We can't ignore it. We have to help produce a better policy so that the goal of people-centered ASEAN can be achieved," Dinna concluded.
Social Affairs Ministry's Expert Staff who is also Senior Officials Meeting on Social Welfare and Development, Dr. Mu'man Nuryana, said academics had the responsibility to support government measures to prevent and minimise trafficking through their studies.
"The task of academic community in human right education is how trafficking can be understood appropriately, formulating publications to raise community awareness that is vulnerable to trafficking that can be adopted by regional governments," he said.
Head of Sociology Department UGM, Dr. Arie Sujito, shared the view. Opening the seminar, he said trafficking issue urged many sides, including academics, to continue exploring human right discourse, especially related to countering women and children trafficking in ASEAN.
"This is a problem of humanitarian reality that needs to be resolved through several approaches. Higher learning institutions cannot just watch it but also take the initiatives," he said.