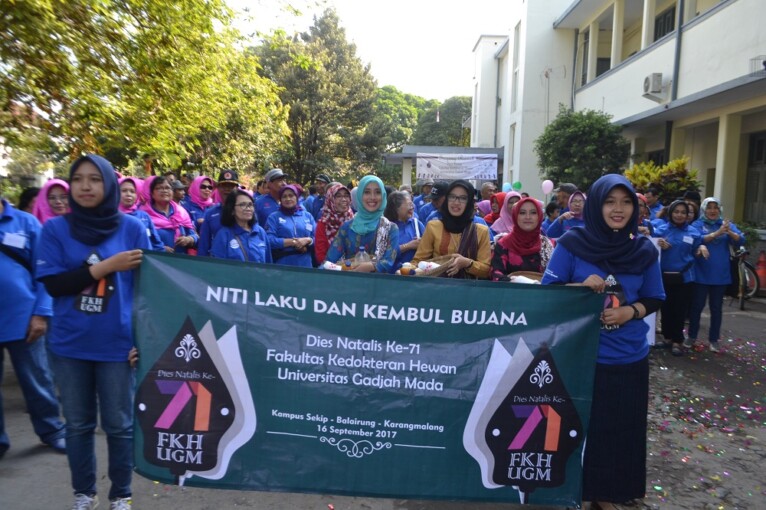 Dean of Faculty of Veterinary Medicine UGM, Prof. Dr. drh. Siti Isrina Oktavia Salasia, has targeted to lead the Faculty to reach Top 10 in South East Asia. This was said by Isrina in front of thousands of alumni who were attending the reunion event at the compound of Faculty of Veterinary Medicine UGM on Saturday (16/9).
Isrina said Faculty of Veterinary Medicine UGM has been accredited 'A' by the National Accreditation Agency (BAN PT); it has also been accredited by the AUN-QA. Not stopping on that, the Faculty is currently submitting to get international accreditations from ASIIN (Accreditation Agency for Degree Programs in Engineering, Informatics/Computer Science, the Natural Sciences and Mathematics) for Veterinary Sciences study programme. "We target to have international accreditations so that the Faculty of Veterinary Sciences UGM is more known regionally and internationally and it can reach the Top Ten in Asean," she said.
To the 1,175 alumni in attendance, the Dean asked for their support to achieve this target. In her opinion, without the support from the alumni, the Faculty will find it difficult to progress and flourish. "Therefore, we have to form a synergy with the alumni," she said.
According to the Dean, the Faculty progressing and flourishing was not apart from the support and contribution from the alumni that had given their knowledge and thoughts. "We hope the Faculty of Veterinary Medicine UGM and alumni to become the problem solver for state problems," she added.
Chairman of 71st anniversary event, Dr. drh Surya Agus Prihatno, said the reunion this time was the biggest to ever be held as it had attracted some 1,175 of over 5,000 alumni to attend. "This is not the last biggest reunion, but there will surely be more to come in the future," said Agus.
Surya Agus added the reunion was part of a series of anniversary events, including bird singing competition, cow-cart festival, also national and international seminars. The alumni gathering, Agus said, was a forum to meet again with other alumni of the Faculty who have spread to other regions across Indonesia. The event also gave a chance to them to meet their senior lecturers again. "We hope interaction, synergy and communication amongst alumni will get better," he said.