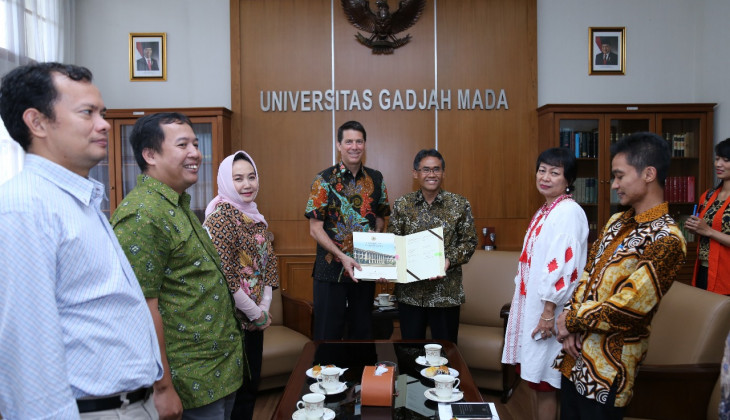 UGM signed Memorandum of Understanding (MoU) with the University of Hawaii and Pacific Disaster Center (PDC) on disaster management sector. This Memorandum of Understanding marks the beginning of cooperation among the parties in encouraging the capacity development of disaster management which includes mitigation, preparation, and disaster countermeasures in Indonesia as well as ASEAN region.
"We are delighted to be able to collaborate with UGM. I have known some experts from UGM and we hope we can obtain supports to encourage disaster management in Indonesia," said Deputy Executive Director of PDC, Chris Chiesa, on Monday (25/9).
Chris said in the past few years, the institution which is based is in Hawaii has been cooperating with the governmental institution which handles disaster management, including National Disaster Management Agency (BNPB), Meteorology, Climatology, and Geophysics Agency (BMKG), Geospatial Information Agency, etc. However, according to Chris, in order to give a bigger influence, his party needs to participate in performing synergy with the university which has disaster management experts.
"UGM has a strong expertise in disaster and social sciences. Therefore, we would like to invite UGM experts to collaborate with us," he added.
Chris said one of the events that can be held is training or capacity building by the staff of National Disaster Management Agency, at least at the provincial level. The trained staff is expected to give the same training to the staff at the regional level.
Chris also hopes the cooperation with UGM can encourage the government to enhance the quality of disaster management in Indonesia, including the handling of the current volcanic disaster in Bali.
"I am sure it will become a good collaboration and bring sustainable impacts which do not stop only in one project," said Chris.
UGM disaster expert, Prof. Ir. Dwikorita Karnawati, M.Sc., Ph.D. said through this cooperation, the parties are able to share information in order to increase the capability of making a decision in the National Disaster Management Agency. This activity will be focused on a supportive application for disaster management decision-making, particularly in InAWARE PDC system, which is operated by the National Disaster Management Agency and the related information service as well as its implementation during the disaster and disaster countermeasures training.
"UGM already built early warning system with the data available throughout Indonesia. However, this is still separated from the central data. Therefore, we would like to integrate the existing data, thus there will be only a platform organized by National Disaster Management Agency," said Dwikorita.
UGM Rector, Prof. Ir. Panut Mulyono, M.Eng., D.Eng. gives positive response towards the collaboration which will be conducted by those three parties. According to Panut, it is in line with the efforts done by UGM regarding disaster management.
"I am grateful we can collaborate in the disaster management sector. I hope we are able to anticipate as well as minimize the disaster effect in the future," said Panut.