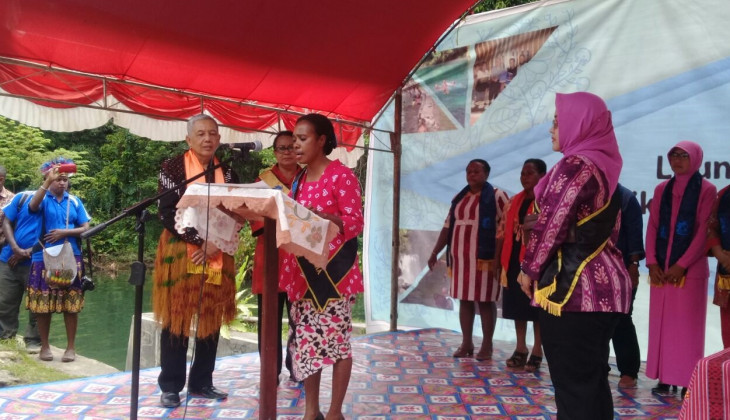 Indonesia River Srikandi (Indonesian acronym: SSI) is an organization which concerns for the river environmental issues and its members are women. It has many activities regarding river issues including education, campaign, training, and accompaniment. This organization is spread in many regions in Indonesia and its number keeps increasing. Currently, the organization already reaches West Papua. The West Papua River Srikandi officially held a launching and declaration on Thursday (28/9) by the Ministry of Women Empowerment and Children Protection. Deputy for Gender on Infrastructure and Environment coordinated by Deputy Ir. Agustina Erni, M.Sc., and Deputy Assistant, Ratna Susianawati, S.H., M.H. collaborated with Women Study Center UGM which is the central secretariat of Indonesia River Srikandi, coordinated by Dr. Tri Winarni Soenarto Putri, S.U. (the Head of Women Study Center UGM) and Surani Hasanati, S.Si., M.Sc. (the Head of Central Indonesia River Srikandi). The event which was held at Kohoin riverside, South Sorong also involved the Central Indonesia River Srikandi and the regional government of South Sorong Agency as well as Environment enthusiast in the regency which was coordinated by Olan Abago.
As the head of the committee, Yosepina Konjoi, S.Pi. from South Sorong River Srikandi said the event themed The Last Generation of Kohoin River. This event aimed to increase the capacity of Indonesia River Srikandi's role as a part of climate change adaptation and mitigation as well as gender mainstreaming in the river environment. In addition, it was also purposely held as an initial facilitation to strengthen the network of Indonesia River Srikandi in West Papua Province. Aside from launching and declaration, the event was also a symbol of the establishment of Women Study Center in Sorong Muhammadiyah University under the Rector, Dr. Hermanto Suaib, M.M. In the event was also held Stadium General by the initiator of Indonesia River Srikandi who is also UGM Vice Rector of Research and Community Service Division for 2012-2017 period, Prof. Dr. Suratman, M.Sc.
Several river srikandi was officially launched in the event, including South Sorong River Srikandi, Sorong City River Srikandi, Manokwari Regency River Srikandi, and Maybrat River Srikandi. The Regent of South Sorong Regency, Samsusin Anggilu, S.E. was officially installed as the Head of River School in South Sorong Regency and Yohana Susana Yembise as the supervisor of Indonesia River Srikandi.
Yohana hopes the environmental activist of Indonesia River Srikandi in West Papua region can become a bridge for the young generation to obtain knowledge and skills to be the young generation who cares for the environment.
"We hope we can be the agent of change, facilitating as well as introducing gender analysis in the discussion process, exchanging ideas and perspective on strategic issues regarding river management, clean water, and sanitation," said Yohana.