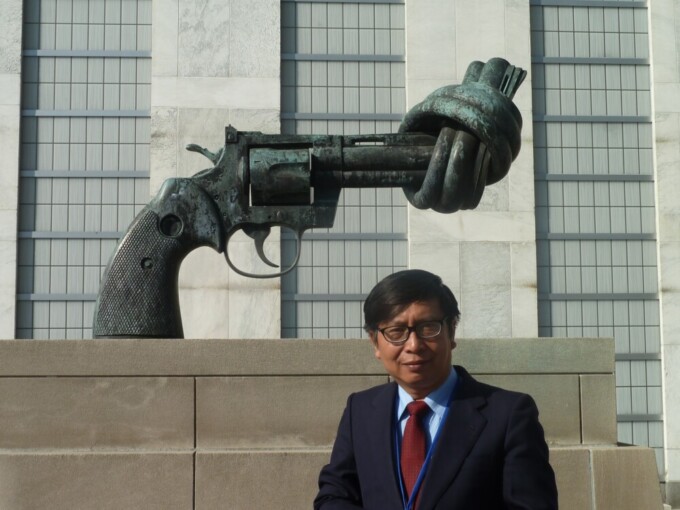 The International Campaign to Abolish Nuclear Weapon (ICAN) coalition has earned the Nobel Peace Prize in 2017 for their success on the Treaty on the Prohibition of Nuclear Weapons that was adopted by the UN on 7 July 2017 with the support from 122 countries.
ICAN is a global campaign coalition of civilians and non-state organisations in over 100 countries to support the prohibition of nuclear weapons. In Indonesia, ICAN partners with Institute of International Studies (IIS) of International Relations Department at Faculty of Social and Political Sciences of Universitas Gadjah Mada (UGM). IIS UGM is the only partner of ICAN in Indonesia, it has to ensure that the Indonesian government support the efforts for nuclear weapons disarmament.
IIS UGM educates people on nuclear weapons prohibition through social media, general lectures, petition, human poster, and other campaigns since 2012. These aim to encourage the government to ratify nuclear weapons prohibition. Two researchers from IIS UGM, Muhadi Sugiono and Yunizar Adiputera, have actively participated in the ICAN campaigns to ensure support from the Indonesian government and monitor the stance of Southeast Asian governments.
On the status quo of world nuclear powers, Muhadi and Yunizar reinstated that the Treaty on the Prohibition of Nuclear Weapons would boost changes in international norms. The illegal status of nuclear weapons as declared in the Treaty would change the moral standard of the international community. Yunizar said on Monday (9/10) the Treaty would create bad opinion on countries owning nuclear weapons.
"The US will be on the same ranks with North Korea as rogue countries as they own illegal weapons of mass destruction. Eventually, nuclear weapons ownership would not be a pride any longer," Muhadi added.
Furthermore, the Indonesian stance that ratified the Treaty during the UN General Assembly on 20 September was seen as an appropriate stance because it reaffirmed the support for humanity. This support should extend to the ratification of the Treaty being endorsed in the Laws.
Unfortunately, according to Muhadi, the Indonesian Parliament has not considered the weapon disarmament draft law a priority. "I hope the issue can be included in the national legislation programme and can be ratified by next year at the latest along with the effort to ratify prohibition of cluster bomb," Muhadi Sugiono concluded.