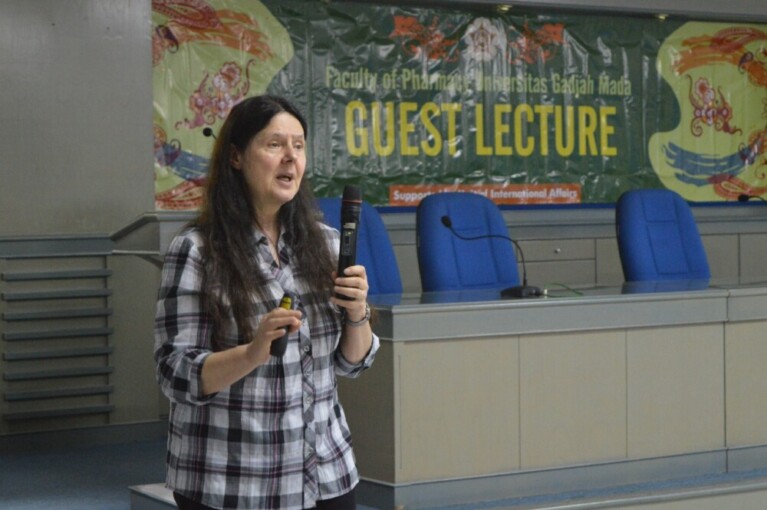 To improve international exposure and knowledge of students and lecturers, Faculty of Pharmacy UGM routinely invites experts from world leading universities to give lecture and conduct research at UGM. This time they invited chemistry experts from Leipzig University in Germany, Prof. Dr. Evamarie Hey-Hawkins, to give a public lecture on Monday (9/10) at Faculty of Pharmacy UGM.
"We are proud to learn the knowledge from Prof. Evamarie who has a great experience in her field of expertise. I hope we can make this event to share and learn useful knowledge for us all," said Vice-Dean for Research and Cooperation, Dr. R.R. Endang Lukitaningsih, M.Si, Apt.
Prof. Evamarie gave a lecture themed "The Role of Chemistry in Interdisciplinary Research." In her opinion, this theme was important for her as it relates to her years of research. She confessed of collaborating with experts from other disciplines and other countries because many problems can only be resolved through cross-disciplines.
"I've been working with different people and we worked together. To meet challenges of today, we have to collaborate with people from various backgrounds," she said.
She has experiences working with researchers from different cultures and work methods. She further explained the research into molecules that involved researchers from Uppsala University in Sweden and some Romanian researchers.
Despite the challenges, she said such experiences had made the research more abundant with various ideas and outlooks.
"Using expertise from different people and places, we learned more on the compounds that we were researching on," said Evamarie.
Hence, she encouraged UGM students and lecturers to open room for cross-disciplines research as well as cooperating with experts from world universities to develop the science and find solution together.