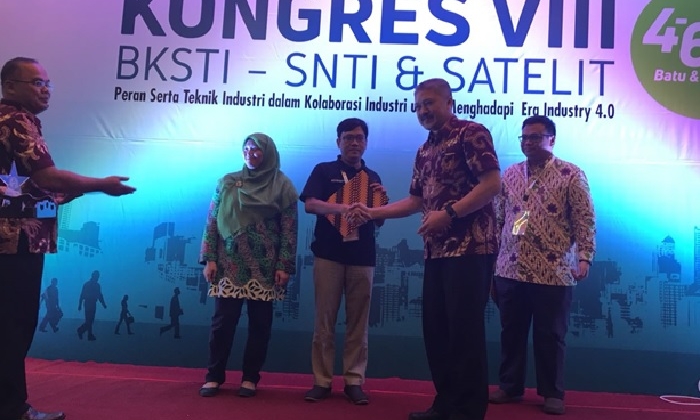 Industrial Engineering students of Universitas Gadjah Mada (HMTI UGM) have won the runner-up award in the BKSTI awards. It was granted by Association of Industrial Engineering Higher Education Administration (BKSTI) Indonesia in its VIII Congress in Batu, Malang (East Java), from 4-6 October 2017. BKSTI is a national organisation that brings together all universities that run industrial engineering study programme across Indonesia.
BSKTI awards evaluates the activity of student associations in useful scientific and non-scientific projects and achievements of its members both internationally and nationally. Secretary ofUGM Industrial Engineering Study Programme, Dr. Budi Hartono, stated HMTI UGM had twice won the BKSTI awards. Dr. Budi Hartono said this was made possible due to the system of HMTI related to planning as well as budgeting, implementation and evaluation. To encourage student achievement, the study programme adopts the System of Industrial Engineering Champions. (SiJUTI).
"In the system, there are competition mapping, procedure for internal selection, mechanism for funding, mentor election mechanism, and implementation of mentoring, scouting and regenerating," said Budi on Tuesday (10/10).
Chairman of Industrial Engineering undergraduate study programme, Dr. Bertha Maya Sopha, said the achievements had been made possible due to the spirit to get better (#better) with the full support coming from all stakeholders, including Mechanical and Industrial Department, Faculty of Engineering UGM, as well as students and alumni. Chairperson of HMTI, Bonifasius Bramantya, welcomed the awards wamly, appreciating and expressing commitment to work harder in the future.
Research Team Declared Best Presentation
In the competition four research teams from Industrial Engineering, Mechanical and Industrial Engineering of Universitas Gadjah Mada also earned Best Presentation in different areas. Around 240 papers had been sent to the seminar.
The winning teams include one on ergonomics with its chairperson Dr. Rini Dharmastiti to present Influence of Music Type and Volume to Driver Situational Awareness, Dr. Subagyo and team on product development titled Successful Pattern of Creative Industry Products.
Furthermore, Dr. Bertha M. Sopha and team presented papers on supply chain management titled Effectiveness of Integrated Location-Routing Problem. Meanwhile, Dr. M.K. Herliansyah submitted papers entitled Product Development of Bovine Hydroxyapatite-Magnesium Oxyde Bone Scaffold through Indirect Fused Deposition Method.