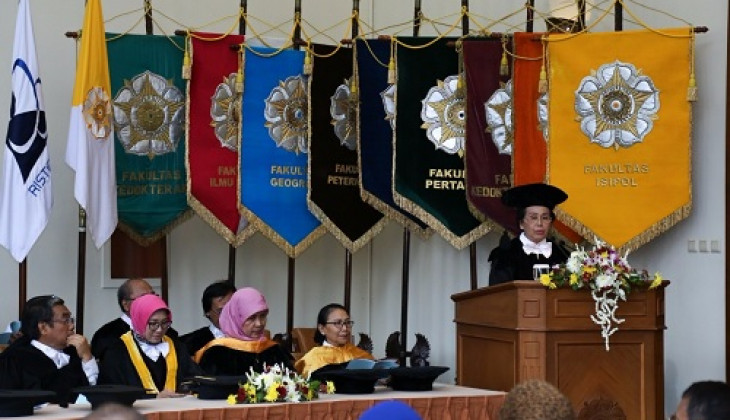 Prof. Dr. Partini, S.U. is inaugurated as Professor of Sociology at Faculty of Social and Political Sciences UGM on Tuesday (10/10) at Senate Hall UGM. Prof. Partini who was born in Klaten 68 years ago is inaugurated as Professor after delivering her inauguration speech entitled Change of Women's Role: Opportunity and Challenge.
In her speech, Partini said the development of information and communication technology had changed roles and behaviors of human, particularly women. The development of gender ideology as an impact of feminist movement and the development of technology give a significant impact to the change of women's attitude and behavior.
"The change of women's role in digital era includes various aspects. Some of them are education and job aspect as well as marriage and transformation of values and cultural system in their next generation," said Partini.
Shifting of women role in education and job sectors is started by the enhancement of education and woman attendance at formal education. This phenomenon happens since the implementation of perspectives on Women in Development as well as Women and Development. The job field shifting is also in line with the increase in the number of women who has a higher educational background.
"The enhancement of women education has encouraged Indonesian women to do many jobs professionally which makes them equal to men in terms of capability and structural position," she added.
On the other hand, in educating their children, according to Partini, women choose to delay to get married, commuter marriage or only have a child with careers as their consideration. It emphasizes the shifting of women's role in establishing the family. This trend raises some issues, including the lack of trust towards their partners, affairs, and even divorce cases.
Those conditions become challenges for women of the millennial generation in maintaining and enhancing their existence in various sectors. In addition, they have to maintain the harmonization in their households and contribute to their jobs and society.