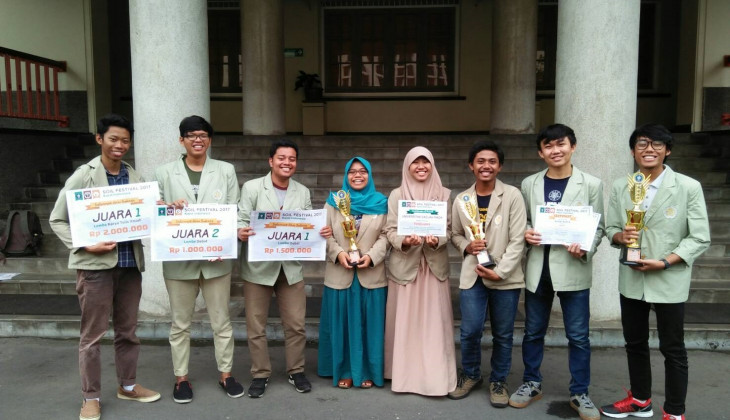 Teams from Universitas Gadjah Mada (UGM) made many achievements in two categories in Karst Indonesia Scientific Writing Competition and Debate Competition regarding Karst Indonesia. This competition was held by Soil Science Students Association, Bogor Agricultural Institute (IPB) on Friday (6/10). UGM sent 3 teams which consisted of 2 debate teams and 1 scientific writing team.
The scientific writing team achieved the first winner place who consisted of students from Faculty of Geography, Muhammad Naufal, Durrotunafisah, and Aji Dwi Pratama. They proposed a scientific writing entitled Strategy of Land Optimization through Doline Land Productivity Evaluation to Increase the Welfare of Karst Farmers in Ponjong Village, Ponjong Sub-district, Gunungkidul Regency. They succeeded to become the winner after competing in the elimination round and passing to the five top teams. The team succeeded to defeat the team from Lambung Mangkurat University, Yogyakarta State University, and Brawijaya University.
On the other hand, UGM Debate Team achieved the first winner and runner-up of the debate competition regarding karst in Indonesia. The first team consisted of Mochammad Fadhil Safrizal from Faculty of Geography, Naufal Muflih from Faculty of Engineering, and Muhammad Ridho Gunawan from Faculty of Agriculture while the runner-up team consisted of Najmah Munawaroh, Lukman Hakim, and Muhammad Naufal from Faculty of Geography.
In the final stage, the two UGM debate teams compete to be the first winner and runner-up with a motion entitled Cement Company in Kendeng Karst Area Cannot be Blamed Legally because the Mining Areas are in Rembang which is Outside Karst Conservation Area Based on the Study and the Decree of Indonesian Minister of Energy and Mineral Resources in 2014. Those two teams admitted they never expected to compete for each other in the final stage. Both of them presented their best argument and being professional during the competition.
"Although we stick to our own team's arguments during the debate and both of us want to be the first winner, we keep supporting each other outside the competition," said Najmah on Friday (13/10).
In line with Najmah, Fadhil said they feel proud of giving their best to UGM by becoming the winners in Soil Festival 2017 Karst Indonesia.