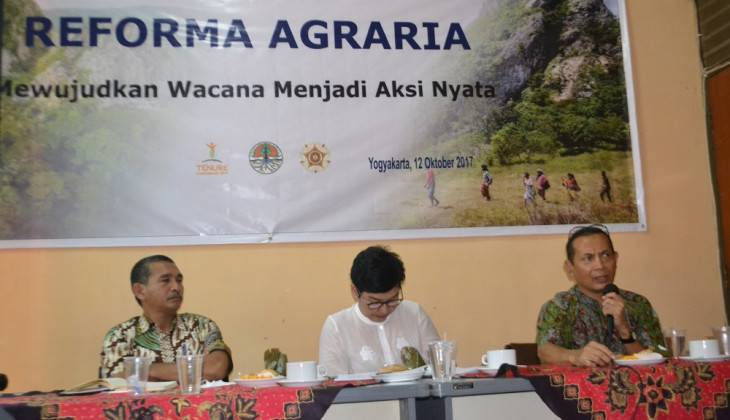 Agrarian law expert from UGM, Prof. Dr. Nur Hasan Ismail, has criticised the phenomenon of surging price of land. The lack of state intervention in regulating the price has made the ownership moving from citizens to capital owners so it shuts down the access to poor society who are forced to live in the riversides and beside railway tracks.
"Gap in cities is pitiful, people are forced to live in the riversides or by the side of the railway roads because they have no lands," said Nur Hasan in a Talkshow on Agrarian Reforms at UGM Centre for Security and Peace on Thursday (12/10).
According to the UGM law professor, the surging price of lands and ease of ownership transfer is due to the lack of government intervention in regulating the land price. "The price of land is uncontrollable, as if the state could not control it. Even liberal countries control the price of land," he added.
Besides, Nur Hasan said, the level of education among people on land sale in the form of building right is still very low. The land actually does not have to be sold to capital owners or businessmen, instead the businessmen can use the building for a certain period, thus the citizen does not lose the land right. "This is not understood by the people and the government has even forgotten this regulation," he said.
Nur Hasan proposed that citizens offer the capital owner to use building right or land use right for example by a 20-year rent so the land ownership is not lost. "The land owner does not lose their property and receive compensations while the businessmen may continue their business," he said.
The uncontrollable phenomenon of land price in urban areas, according to Nur Hasan, is pitiable that it closes the access of the grassroots level to living in the city. The government also lacks in forest land management right for plantation. He expected the central and regional government to pay attention to the uncontrol price phenomenon of lands and to educate the citizens not to easily sell their lands to capital owners.
He also touched upon the agrarian reform programme by government that does not suffice just by opening access to land ownership, but also to capital and market. "It is not adequate just by providing the lands, but they need to open access to capital and market for people," he said.