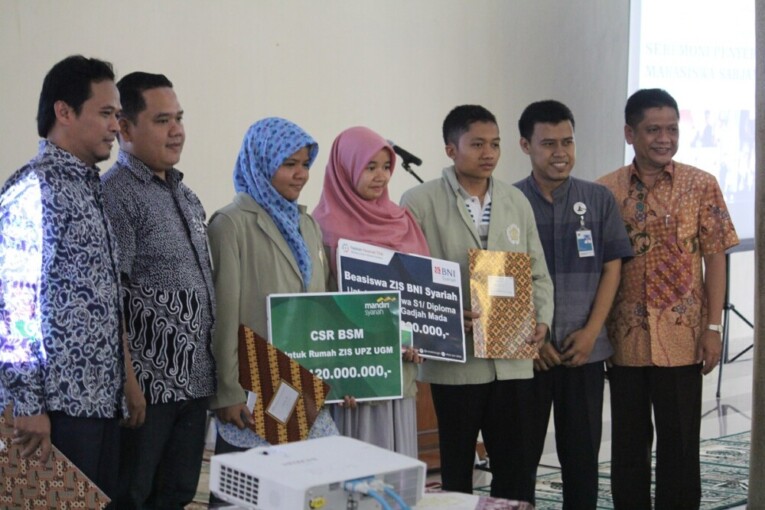 As many as 249 undergraduate and diploma students as well as santris (Muslim students) of orphanages received sholarships from RZIS UGM on Friday (13/10) in Balairung UGM. UGM Vice-Rector for Planning, Finance, and Information System, Dr. Supriyadi, M.Sc., Akt., Chairman of RZIS UGM, Gugup Kismono, Ph.D, and representatives from partner banks of BNI Sharia and Mandiri Sharia Bank submitted the scholarships.
Deputy Chairperson of RZIS UGM, Taufikur Rahman, M.B.A., in his speech said the alms funds collected from June-July 2017 had gone well above 1 billion, coming from UGM internal and external parties.
"Of this figure some 740 millions have been disbursed to university and primary school students, blind people, orphanages, etc," said Taufik.
He added the amount of scholarships disbursed for primary and secondary students reached over 270 millions, for people living around UGM 157 million, orphanages in Yogyakarta 42 million, healthcare 5 million, and the blind people 120 million.
Vice-Rector Dr. Supriyadi expected the scholarships could be beneficial especially to the students, so these would improve their education quality.
"As a university of the people, UGM will continue to do this. Hopefully, this can give benefits to the students and the surrounding communities. Last but not least, we extend our gratitude to the partners of UGM," said Supriyadi.