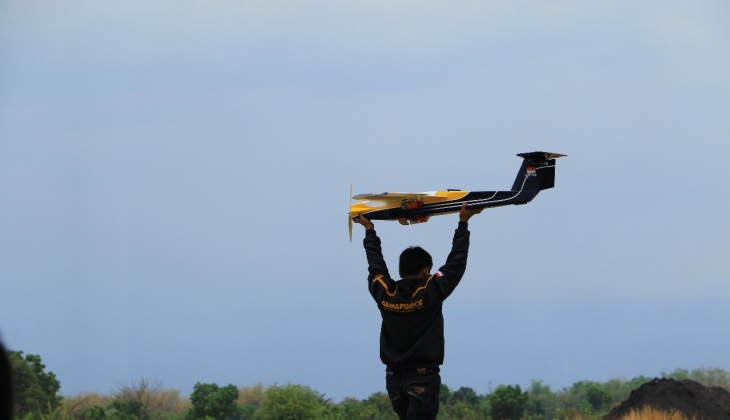 Indonesian Flying Robot Contest (KRTI) 2017 is officially started on Monday (16/10) at Indonesian Air Force Field of Raci in Bangil, Pasuruan city, East Java. It is an annual event held by Directorate General of Learning and Student Affairs, Ministry of Research, Technology and Higher Education. This year, the event entitled Towards Self-Sufficiency in Unmanned Aerial Vehicle is hosted by Institut Teknologi Sepuluh November.
The event is attended by as many as 77 teams which are divided into 24 teams in Racing Plane category, 20 teams in Fixed Wing category, 20 teams in Vertical Take-Off Landing category and 13 teams in Technology Development category.
Gadjah Mada Flying Object Research Center (GAMAFORCE) dispatches 4 teams in each category. Those teams which are led by Rifyal Garda Pambudi have prepared for more than 10 months. They are optimistic to become the winner for the third time.
Meanwhile, Head of Reasoning and Creativity Subdivision, Directorate General of Learning and Student Affairs, Dr. Widyo Winarso, also said the main goal of Indonesian Flying Robot Contest is to enhance the students' competence in both hard skills and soft skills. "Use this opportunity to broaden your network, thus it can encourage your career in the future and also become a qualified graduate as expected by the universities in Indonesia," said Widyo.
As we know, Unmanned Aerial Vehicle (UAV) and Unmanned Aircraft System (UAS) have developed rapidly in world research in this decade. Therefore, through this event, the students can innovate in the unmanned aerial sector.