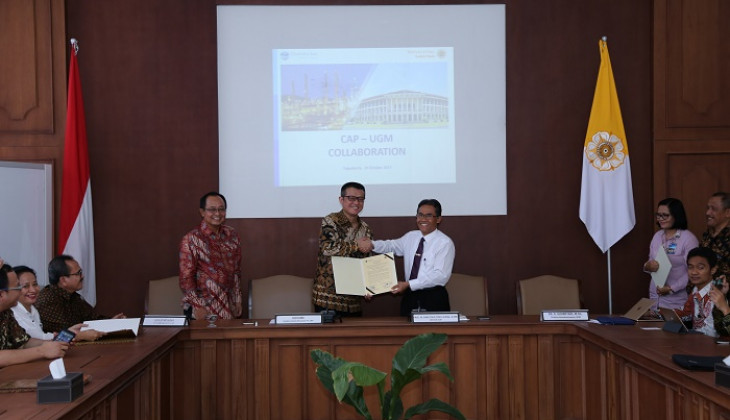 Universitas Gadjah Mada (UGM) builds cooperation with PT. Chandra Asri Petrochemical Tbk (CAP) which is marked by the signing of Memorandum of Understanding (MoU) at UGM main office on Thursday (19/10).
The signing of MoU was done by UGM Rector, Prof. Ir. Panut Mulyono, M.Eng., D.Eng. and Director of Human Resources of CAP, Suryandi. The cooperation includes institutional scholarship for engineering students, collaborative research as well as students' admission through partnership.
Suryandi said the cooperation between CAP and UGM is required as an effort to enhance the competitiveness through the development of qualified and excellent human resources. Demands of qualified human resource development is increasing in line with the bigger business requirement and public capacity.
Suryandi further said one of the implementations of the cooperation is an institutional scholarship for the final year engineering students. In the first stage, there have been eight selected students from Department of Chemical Engineering and Department of Mechanical Engineering.
The cooperation also includes collaborative research on energy efficiency, product development, and environmental issues. In addition, the students' admission through partnership will be applied for the children of CAP staff.
"The cooperation is expected to encourage the sustainability of CAP business development as well as increase the educational and research activities at UGM," said Suryandi.
UGM Rector gives a positive response toward this cooperation. It gives many opportunities to the researchers and students to conduct various research in PT. CAP.
"We hope the institutional scholarship for the students can be sustained and enhanced in the future," said Panut.
Panut also congratulates the students who have been selected as the scholarship grantees. He hopes the students can well contribute to the development of petrochemical industry in Indonesia.
One of the scholarship grantees, Ivone Marselina Nugraham, said she is grateful to be chosen as the grantee of PT. CAP Scholarship. Ivone did not expect to be chosen considering the tight selection and many participants.
"I feel proud to be this first batch grantee. Through this scholarship, I am no longer worried where to work after graduation," said Ivone.