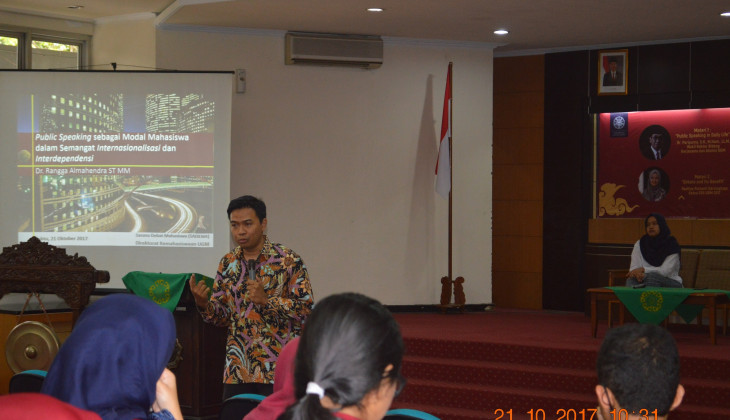 UGM held Students Debate Forum (Indonesian acronym: SADEWA) 2017 from October 21 - 22 and will be continued from October 28 - 29, 2017. The event is attended by as many as 34 teams which consist of 24 Indonesian debate teams and 10 English debate teams.
The competition was officially opened at Auditorium Faculty of Forestry UGM by holding a talk show which presented Rangga Almahendra, S.T., M.T., Ph.D., Director of ADiTV station and Raditya Putranti Darningtyas, chairperson of English Debate Society (EDS) UGM 2017, as keynote speakers.
Anselmus Pasila Galla, chairperson of SADEWA Committee, said this debate competition is an annual event held by Directorate of Students Affairs UGM. This event aims to proliferate the values of debate as well as familiarize speaking in front of people.
"Those two skills are essential for UGM students. This time, the competition is entitled Value of Nationalism in Internalization and Interdependency," said Anselmus.
Anselmus said through the subtheme entitled Debating and Its Benefit, this competition is expected to enhance the competitiveness as well as verbal skill in order to enhance the confidence of the students. In addition, it is expected to produce a young generation who is qualified, competent, and relevant to the current global condition.
Basuki Indrawinata, S.IP, the representative from Directorate of Students Affairs UGM said UGM always encourages this kind of event. As a form of their support, UGM gives opportunities to Vocational and Undergraduate students to form communities.
"Directorate of Students Affairs gives opportunities to all UGM students to form communities and we will give funding for their activities," said Basuki.
On the other hand, Rangga Almahendra, Director of ADiTV, during the talk show said there are many professions that require debate skill, for instance, being a lawyer needs to show someone's skill in being ethical and giving arguments.
Therefore, according to Rangga, debating and arguing skills are essential to be trained. Those skills can change the world.
"One of the keys is by doing it with our heart. Speaking by our heart and eyes will radiate energy from the words," he added.