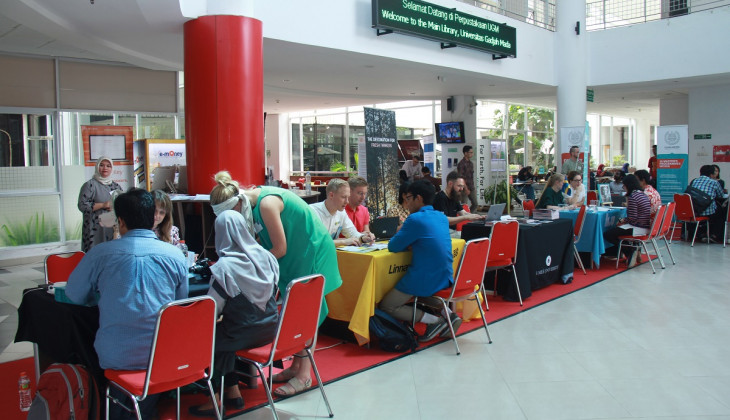 Swedish Embassy in cooperation with Universitas Gadjah Mada organised Study in Sweden: Campus Tour event on Thursday (2/11) at UGM Library. Head of the Library, Dra. Nawang Purwanti, MLIS., welcomed the event.
As many as 14 Swedish universities take part in the exhibition. They are Chalmers University of Technology, Gothenburg University, Jönköping University, Karolinska Institutet, Kristianstad University, KTH Royal Institute of Technology, Linköping University, Linnaeus University, Lund University, Malmö University, Stockholm University, Umeå University, and Uppsala University.
Head of UGM Sub-directorate for International Cooperation, I Made Andi Arsana, S.T., M.E., Ph.D., said this event was to give information to students of Universitas Gadjah Mada and general public, He said information on the procedure to study in Sweden would increase the motivation of the UGM students and the public to continue their study in Sweden.
Andi said this event was expected to prepare the students and people before they apply to a Swedish university.
"The education fair is a form of facilities and extension of network between students and Swedish universities," said Andi.
There will be presentation and talkshows. Highlight of the event will describe scholarships, presentation on Swedish Institute Scholarship, and KTH Masters Challenge of which the winners will earn full scholarships for master's programme at KTH for two years. Each university will share information on scholarship programme by alumni and scholarship recipients from Swedish Institute or LPDP.