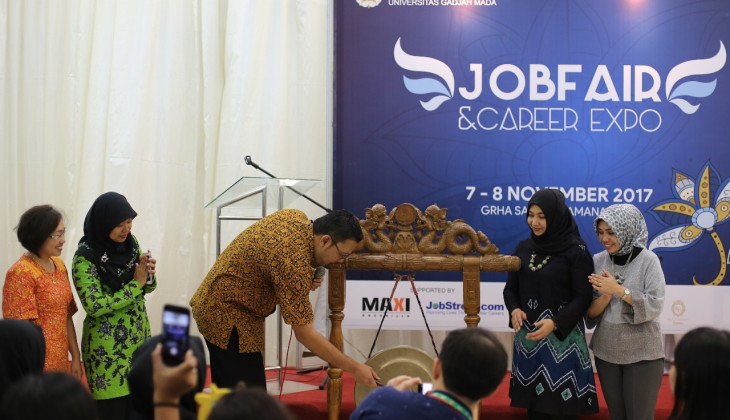 Vocational School UGM through Vocational Development Center (VDC) collaborating with Maxi Organizer holds Job Fair and Career Expo at Grha Sabha Pramana UGM. The event is held for two days from November 7 until 8, 2017 and VDC is targeting 12,000 attendees. The event which is opened for the public is free for entry while the participant has to fill online registration in jobstreet.com to obtain the ticket. It opens from 09.00 a.m. - 04.00 p.m. The participants reach 6,000 people on the first day.
The 9th Job fair was officially opened by Vice Dean of Cooperation, Alumni, and Strategic Planning, Radhian Krisnaputra, S.T., M.Eng. assisted by Vice Dean of Research and Community Service, International Affairs and Public Relations & Information and Communication Technology, Dr. Silvi Nur Oktalina, S.Hut., M.Si, as well as Head of UGM Public Relations and Protocol, Dr. Iva Ariani, S.S., M.Hum. and Manager of Cooperation and Business Development Unit, Dr. Nurulia Hidayah.
In his speech, Radhian said this event is purposely held to help the new graduates obtain their expected jobs. Radhian hopes the graduates of Vocational School UGM are given the mandate to give benefits to UGM's partner companies.
"We told our partners that aside from holding a job fair, VDC also facilitates training," said Radhian.
Radhian further said there is a training unit in VDC which is ready to help UGM's partners give training on various subjects, including license, language, computer, etc. He also emphasizes VDC has psychology and health teams if the partners need help in the recruitment process.
"We make sure the new graduates who are recruited through us match the company's requirements and several companies have trusted their recruitment process to us," he added.
Radhian hopes the event can run smoothly and there is a mutualism symbiosis between Vocational School UGM and the partners.
The Chairman of the committee, Yoga Dwi Hastono, said this year the committee raises One Step to Our Career as the job fair's theme where it is expected to encourage the participants to be one step closer to their dream career.
The companies which join the event are expected to have a bigger opportunity to meet candidates who are competent. Different from previous Job Fair and Career Expo, this job fair presents several keynote speakers who will share their experiences through career talks.
"Through career talks, the participants will gain knowledge regarding broader career world. Moreover, the event will be enlivened by a performance by popular performer, Demian the Illusionist," said Yoga.