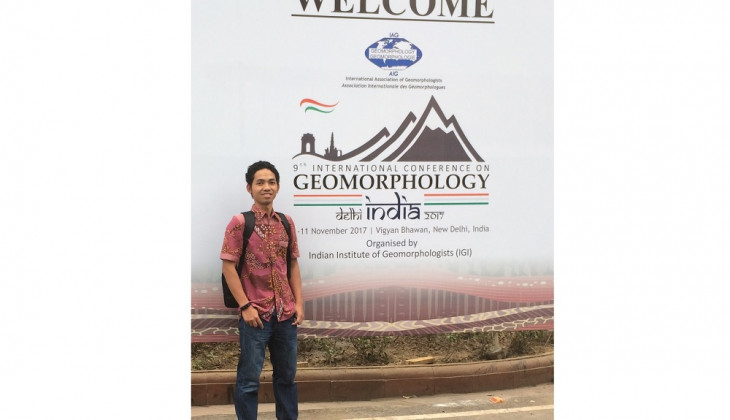 A lecturer from the Faculty of Geology, Universitas Gadjah Mada, Bachtiar Wahyu Mutaqin, M.Sc. earned an international award, the Young Geomorphologist Grants Award 2017, at the 9th International Conference on Geomorphology, which was held in New Delhi from November 6 - 11, 2017.
The Young Geomorphologists Grants Award is an award given by the International Association of Geomorphologists (IAG) which meets once every four years to award young geomorphologists under 35 years old. The award is given in appreciation of their academic achievements in the geomorphology sector.
"I am very grateful for the trust given by IAG to me," said Bachtiar on Wednesday (Nov 8).
The award was officially given on Tuesday (Nov 7) by the President of the IAG's Executive Committee, Prof. Eric Fouache, assisted by the Vice President of the IAG Executive Committee, Prof. Mauro Soldati, and the Secretary-General, Prof. Sunil Kumar De. The handover of the award was done in front of 500 participants at the conference who come from various countries in the world.
Bachtiar said there were also another 21 young geomorphologists who earned this prestigious award. They are researchers from Brazil, India, Iran, China, Iraq, Ethiopia, Cameroon, Argentina, and Mexico.
"There were 73 applications submitted to IAG and 22 of them were selected to earn this award," said Bachtiar who currently studies in the doctoral programme at Ecole Doctorale de Géographie de Paris, Université Paris 1 - Panthéon Sorbonne.
Through this achievement, Bachtiar has an opportunity to attend an intensive course for young geomorphologists which will be held from November 12 - 17, 2017 at the Indian Institute of Remote Sensing, Dehra Dun, India.
Previously, the Young Geomorphologists Award was also earned by lecturers from the Faculty of Geography UGM, Dr. Danang Sri Hadmoko in Paris in 2013 and Prof. Muh Aris Marfai in Melbourne in 2009.
Bachtiar said this achievement cannot be separated from the support of the Faculty of Geography UGM, particularly the Environmental Geomorphology and Disaster Mitigation Laboratory, as well as support from his colleagues in the Laboratoire de Géographie Physique UMR 8591 – Meudon, France and the Indonesian Educational Fund Management Agency that grants the scholarship.