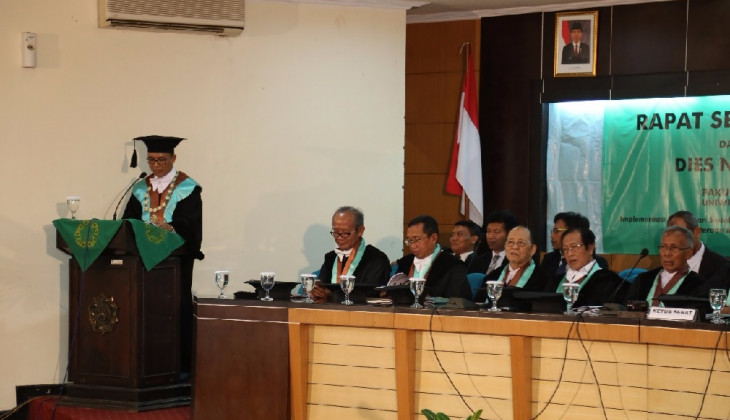 Dean of Faculty of Forestry UGM, Dr. Budiadi, S.Hut., M Agr. Sc., has supported the acceleration of policy implementation that orientates towards people's welfare and decentralised development. He asked, however, that such policy takes account of forest sustainability.
"Programme implementation has to be established through careful consideration, participatory while taking into account the biophysical and social condition," he said in the Senate's plenary session during the celebration of 54th anniversary of Faculty of Forestry on Thursday (16/11) in the Auditorium of Faculty of Forestry UGM. Budi said those were needed to be done to minimise possible problems in the future.
Budi further emphasised the importance of evaluation of spatial utilisation and related regulations so that future land allocation for development would not put too much pressures on the forest ecosystem. Besides, it is important to build the formulation of development monitoring system.
In his opinion, mainstreaming the concept of decentralised development for people's welfare and enhancing forest function need to be encouraged through National Social Forest Movement. This can be done through synergy towards accelerated infrastructure development, rural development, peatland restoration, as well as agrarian reforms.
Furthermore, Budi announced the achievements made in 2017 related to academic matters, student affairs, research and community service, human resource, assets, and finance.
Academically, the Faculty is re-designing the undergraduate and graduate curriculum to improve the quality of its graduates who will be excellent and competitive globally. Some breakthroughs that have been made academically include building the character of foresters that have strong spirit through integrated courses and field practice. There is also the international accreditation from the Accreditation Agency for Degree Programs in engineering, Informatics/Computer Science, the Natural Sciences and Mathematics (ASIIN) for Forestry study program by developing credit transfer system for undergraduate program along with a number of universities in ASEAN and Japan, and graduate double degree program with Tokyo University of Technology and Agriculture.
In terms of research, throughout 2017 there are 34 research under th e sheme of DPP, LKD, and BPPTN that are funded by Faculty of Forestry UGM. Besides, some 23 research are funded externally through various schemes. Meanwhile, until November 2017, there are 23 publications by lecturers having been published in Scopus-indexed journals.
Budi announced in 2017 Faculty of Forestry UGM was trusted to manage the Forest Area with Special Purposes in Getas Ngandong areas between Blora and Ngawi cities. The 10,901 hectares of forests are to be run like Wanagama conservation forest in Gunungkidul for education and training purposes.