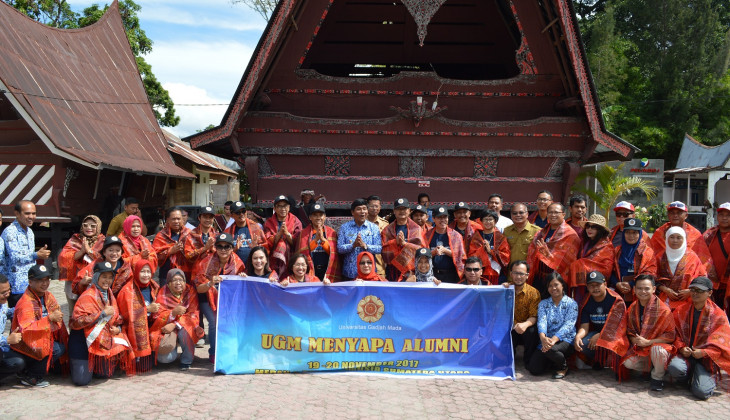 Universitas Gadjah Mada in cooperation with PT. Pelindo I (a company) and the North Sumatran Alumni Association have developed tourism in Tomok Parsaoran village, in Simanindo district, Samosir regency. This was done by dispatching students there for community service some time ago.
Despite its already running some tourism operations, the Tomok Parsaoran tourism village still needed to be perfected. Universitas Gadjah Mada therefore committed to developing the potential there.
"UGM students doing their community service have made a contribution to Tomok village. What has been done with the North Sumatran Alumni Association and Pelindo I is a real program," said UGM Rector, Prof. Ir. Panut Mulyono, M.Eng., D.Eng, in Tomok Parsaoran on Monday (Nov 20).
Making a visit to see the students' community service in Tomok Parsaoran, the rector was entertained with cultural attractions such as Tor-Tor Cawan and Tor-Tor Tandok dances.
Seeing the potential of Tomok, the rector wished to discuss matters to develop the potential even more and to dispatch more students from the community service program.
"We want to engage our students in developing tourism in this village. In the near future, in June next year, we may start the students' community service here again," he said.
Deputy Regent of Samosir, Ir. Juang Sinaga, welcomed and appreciated the students' community service. Tomok village has developed well due to the good communication between UGM and Samosir regency.
"This is a form of support for us. Yet there are still many things to be developed here. We hope those can be realised soon," he said.
Juang Sinaga said Samosir regency had grown well, due to a good synergy with tourism in Java. Good synergy and communication is expected to be able to develop Indonesia's tourism in the future, especially at Lake Toba in North Sumatra.
"We need human resource to develop Samosir further. Currently, the construction of toll roads, ports and other facilities is just beginning," he revealed.
Special staff to the Regent of Samosir, Saur Situmorang, added Samosir was a strategic location. According to Saur, due to the UGM students' community service and the alumni through PT. Pelindo I and the North Sumatra Alumni's Association, the Tomok Parsaoran village has been frequented by tourists. Cooperation with the university, he said, would advance the tourism there even more.
"By sticking to the principles of honesty, hospitality, and cleanliness, tourism development in Samosir will grow fast," he said.