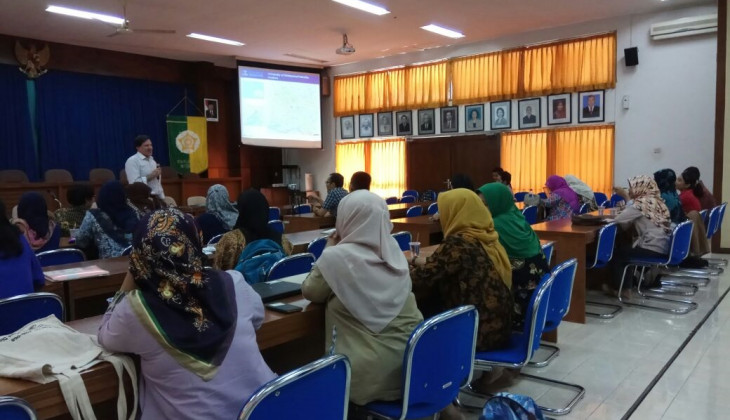 Plant pathologist from Faculty of Veterinary and Agricultural Sciences, University of Melbourne, Australia, Prof. Paul Taylor, Ph.D., gave a public lecture at Faculty of Biology UGM on Monday (4/12).
Taylor described plant diseases that are caused by pathogenic fungal infection, Colletotrichum spp, as well as the controls. He viewed that pathogenic fungal infections have the potential to reduce plant productivity so it is important to conduct research under molecular biology approach to resolve it.
He did a number of research related to pathogenic fungi in food plants, adopting molecular biology approach. This included a study related to the life cycle of Colletotrichum spp., disease gene that is involved in infection of oranges in Australia and chilli in Southeast Asia.
"It was not easy to control anthracnose that was caused by Colletotrichum spp. species because the pathogen may infect the host in a great scale," he said.
He added identification of Colletotrichum spp., was not easy to do, either, while the same was true for variations of lifestyles of the species during infection.
"Other barriers to control the fungi of this type is the slow process of identification of resistant gene, new development of pathogen in the species, and fungal resistance," he said.
Faculty of Biology's Vice-Dean for Academic, Rina Sri Kasiamdari ,S.Si., Ph.D, in her speech expected the public lecture would give new insight to the students related to interaction between hosts-pathogenic fungi. She hoped the research would be followed up by steps to resolve fungal diseases in the plant.
The public lecture was organised between Faculty of Biology UGM and Research Center for Biotechnology and was funded by World Class Profesor Programme of the Higher Education Ministry. Tens of students from Biology undergraduate and graduate programme joined the lecture.